Upper School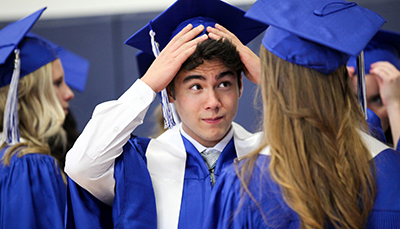 Mounds Park Academy's Upper School challenges students to learn and grow to their fullest potential and prepare them for success beyond high school. What sets Upper School at MPA apart are the opportunities students have to discover their passions and pursue their interests as they engage in a flexible and challenging academic program.
Whether a student has been at Mounds Park Academy since Kindergarten or joins the MPA Community in Upper School, the experience of grades nine through twelve at MPAprovides opportunities to use acquired knowledge to form and express opinions. MPA graduates respect human dignity and are concerned about the welfare of others, are able to combine individual interests with responsibilities to others, demonstrate integrity and ethical decision making, and resolve conflicts peacefully.
The MPA Upper School Curriculum is challenging and compelling. It's infused with thougtful integration so the connections between concepts and different subject areas are rich. Whether studying biological processes, constitutional law, or multiple languages, connecting things to the bigger picture gives students a broader perspective—which is an essential prerequisite for college and life. Through honors courses, Advance Placement courses, electives, and community service requirements, motivated MPA students take their abilities and ideas even further.
The Upper School is proud to be a member of the 19 school consortium that comprises the Malone Schools Online Network (MSON). This elite group of schools offers unique, high rigor courses in a virtual classroom. The courses are synchronous, meaning the teacher and students are all meeting in real time in a virtual classroom via high resolution cameras, high speed connections, and large digital displays. The courses are available to junior and senior students who have maintained at least a 3.75 GPA while taking rigorous courses at MPA.
In Upper School, students become adept at balancing the high demands of a challenging course load and learn how to better manage their time and prioritize responsibilities. Our community maintains high expectations for all students, and we're always here to offer guidance, support, encouragement and praise. We take pride in preparing balanced, confident, intellectually curious students who succeed and emrbace the challenges that face them in college and beyond.
Facts and Figures
Academics
100% of MPA graduates are admitted to 4-year colleges and universities.
24% of the members of the Class of 2013 are recognized by the National Merit Scholarship Program.
There are 7 Advanced Placement classes offered at MPA (World History, English Language and Composition, Biology, French, Spanish, AB Calculus, and Statistics).
MPA's Class of 2013 average ACT score is 28 (Minnesota average is 22.8 and National average is 21.1).
Each Upper School student at MPA is matched with an academic adviser—a member of the Upper School faculty who will help the student match their interests to their course of study.
MPA launched one of Minnesota's first 1:1 laptop programs in 2000.
The Class of 2012 attends 47 different colleges and universities spanning 23 states.
In the fall of 2012, 93 college and university admission representatives visited MPA to meet with graduating seniors.
More than 90% of seniors from the past three graduating classes were accepted to their first or second choice college or university.
Extracurriculars
38 clubs and activities are available to Upper School students.
MPA finished 3rd in the Tri-Metro Minnesota High School Math League conference in 2011-2012.
MPA's National Academic Quiz Team (Quiz Bowl) has consistently advanced to National Competition, and in 2012 an MPA team member won the Top Freshman Player Award.
MPA's Speech Team has been Section 4A Champions for 13 consecutive years (2000-2012).
As of the Spring of 2012, Mounds Park Academy Speech Team members had won 130 State medals and 27 State Championships.
In the Fall of 2012, two MPA 9th grade Debate Team members were named Novice State Classic Tournament Champions.
Fine Arts
MPA requires more Fine Arts credits than any other non-arts-focused school in the Twin Cities.
Nearly 60% of Upper School students sing in at least one of the five choirs offered.
MPA choirs have been invited to sing at the American Choral Director's Association—MN Fall Convention, the Minnesota Music Educators Convention Mid-Winter Clinic, and the Minnesota Chorale Arts Finale sponsored by Concordia University-St. Paul. They have also sung in concert with the Oratorio Society of MN and made an appearance in theTwin Cities Public Television documentary Never Stop Singing. Cantus and the Rose Ensemble, professional chiors based in the Twin Cities, have conducted residency programs at MPA.
Four MPA students were selected to perform with the grades 11-12 American Choral Director's Association—MN Choir in the fall of 2012, and two more have been chosen to perform in the grades 9-10 ACDA--MN Honor Choir in 2013.
In June 2012, an MPA student was chosen to perform with the All-National Honor Choir in Washington, D.C. at the Kennedy Center for the Performing Arts.
In 2012, the artwork of 22 MPA students was chosen for the Les Farrington "Best 100" Juried Art Exhibit.
In 2013, five MPA students were selected for the Minnesota Scholastic Art Awards Exhibition.
Band and Orchestra
MPA students have played in the Minnesota All-State Orchestra every year for the past 13 years.
More than 75% of MPA's Upper School student body participates in either band, orchestra, and/or choir.
Over the past 10 years, six MPA 9th graders have been selected to play in the Minnesota String Teacher and Orchestra Association (MNSOTA) orchestra, which includes students from across the state in grades 7-9.
In the past five years, 14 MPA students were selected to perform in the Minnesota Music Educators Association All-State Ensembles.
In 2006, an MPA student was chosen as the Minnesota Music Educators Association High School Composer of the Year.
Several MPA students currently play in the Minnesota Youth Symphony Orchestra and the Greater Twin Cities Youth Symphonies.
Athletics
Since joining the Minnesota State High School League in 1993, Mounds Park Academy has:
Produced 20 individual State Champions.
Competed at 19 State Tournaments.
Won 7 Team State Championships.
Captured first place in 20 Conference Championships.
There are 13 athletics offerings for Upper School students, including Volleyball, Cross Country, Soccer, Swimming, Tennis, Football, Basketball, Nordic Skiing, Hockey, Track and Field, Softball, Baseball, and Golf.