July 5, 2017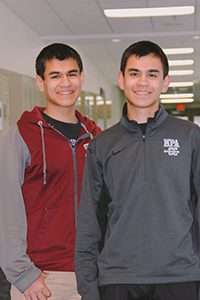 What do you love about MPA?
This is a very, very welcoming and respectful environment. It's really amazing how many different opportunities there are here. In the public school you can excel at one, maybe two things—and our friends are doing that well—but our experiences are so much more varied.
How have you been encouraged to dream big and do right at MPA?
This is a very individual-centered place where it's cool to be involved and follow your passions.
What would you tell another parent considering MPA?
We had many friends, and were sad to part from them, but we fit in really well as soon as we came. It is easy to connect with our teachers because they are so enthusiastic and our classes are so small.
In what ways has MPA prepared your child for life in the 21st century?
All of our classes are discussion-based. Our teachers want to hear what we have to say and insist we take a stance and defend it. I know that helps us excel today, and will help us continue to excel broadly in the future.
Mounds Park Academy, a PreK-12 private school in Saint Paul, is currently accepting applications for the 2018-19 school year. For more information about admission and to schedule your tour, visit moundsparkacademy.org/admission. We look forward to getting to know your family!