October 16, 2017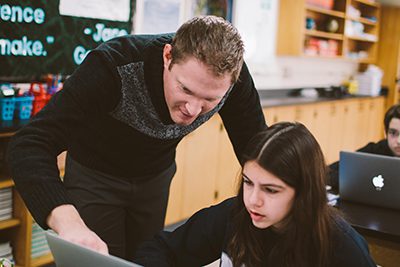 Middle School Science Teacher
How many years have you been at MPA? Seven
What do you love about MPA?
That we are an accepting community who allows everyone to be who they are.
How does MPA nurture students who forever dream big and do right?
By investing time into each student and allowing them to delve into areas of interest, while introducing them to social topics that they may not have considered or known much about.
If you have worked at another school, how has your experience at MPA been different?
MPA feels like home. Every day I look forward to getting to school and seeing the seventh and eighth graders … crazy, right? Really, that says a lot about my experience.
What would you tell a parent considering MPA?
There is no place like home.
In what ways are you preparing students for life in the 21st century?
Not to sound cliché, but to think independently and critically, while at the same time, widening their perspective of the world around them, to gain empathy and hopefully be the cause of change in our world.
What do you hope for MPA students in 20 years?
That they take the lessons and interactions from MPA and use them for the greater good in our community and world.
Mounds Park Academy, a PreK-12 private school in Saint Paul, is currently accepting applications for the 2018-19 school year. For more information about admission and to schedule your tour, visit moundsparkacademy.org/admission. We look forward to getting to know your family!