October 26, 2017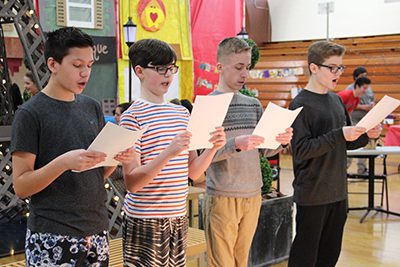 A message from Ginnie Peterson, Co-Vice Chair Elect
One of the best things I did last year was volunteer for the Middle School Cafe. I made great friends and worked alongside wonderful people who I look forward to seeing at my comings and goings at MPA. I put names and faces of kids together that I had been hearing about all year. I had a chance to greet teachers and administration and even interact with a few prospective families. These are all such good things!
I was amazed by the parents who turned the Kreischer Gym into Paris including an Eiffel Tower and Arc de Triomphe, but I was most taken with the kids. While appreciative of our efforts, were just happy to have a place to informally hang out, interact and socialize, and mix in a way that allowed them to make new friends and to be themselves.
This year, we are simplifying and blending the Cafe with the Book Festival week to facilitate families with children of multiple ages to take part in the week as much as possible. We are creating a bookstore Cafe for the Middle School students, including local vendors, bubble teas, faux coffee drinks, social areas, and reading nooks.
We are offering coffee hour in the morning for parents and of course the cafe will be open to all of the grades as their time allows. We are hoping to see many of Upper School students take advantage of our "Barnes and Noble" effort.
We'd love your company. We'd love your involvement. Join us in whatever way fits your life—donate baked goods or drink supplies or be a barista, a smoothie maker, or a decor diva. The dates of the actual cafe are January 17 and 18.
We can't wait to work together! Please reach out to Seema Answar or myself to get involved.
Ginnie Peterson, Co-President Elect:
ginniepeterson@gmail.com or 651-238-6926
Seema Anwar, Co-President Elect:
seema_anwar@hotmail.com