November 30, 2017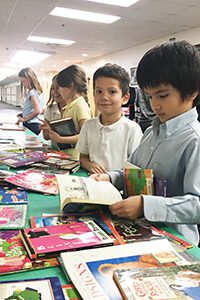 The Book Festival is coming up January 16-19! The Parents Association is looking for used book donations (children's, adult, young adult, cookbooks, etc.). Collection carts are set up in the Lower School hallway by the Lower School Conference Room and by the Upper School entrance to the Lansing Sports Center. The used books will be available for purchase during lunch the week of Book Festival.
The 2018 Book Festival will promote the joy of reading and celebrate the power of storytelling. You're invited to come enjoy the many activities offered during Book Festival week!
January 16-19: Bookstore in the Gallery & Used Book Sales During Lunch
Used, donated books will be for sale outside the cafeteria during lunch. All books $0.25 each!
January 17-18: Middle School Cafe
Middle School students will get a chance to visit our bookstore and cafe where they can browse our selection of books, relax with friends, and purchase drinks and pastries.
January 18, 3-6:30 PM: Book Festival Family Night
Lots of activities, games, and crafts in the Makerspace, plus the bookstore and dinner.