November 30, 2017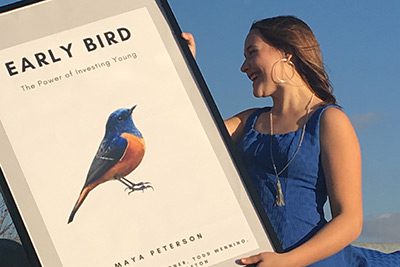 MPA is so proud of freshman Maya Peterson for the launch of her book, Early Bird: The Power of Investing Young. She speaks from experience on why her peers should not be afraid to invest and should start now.
Maya's journey begins waiting in a crowd of people at 4:30 AM, standing for hours to see Warren Buffett and other speakers in the lineup at the Berkshire Hathaway Annual Meeting with her dad. While this isn't the actualization of "fun" for 11-year-olds, Maya was beaming. At this meeting, the pinnacle of her year, she was going to meet her idol, renowned value investor and author Lauren Templeton.
Going to the annual meeting with her dad was a tradition for Maya. Informative and calculable, Maya recalls that it was absolutely valuable she attended. It was just this particular year that stands out in her memory, that brings a smile to her face while she talks, that would later be realized as the juncture in her methods as a young, female investor. The year that Lauren Templeton was hosting a book signing at the event. But upon approaching the exact location where she expected all of this to cumulate, Maya discovered that Lauren wasn't there. Maya was rather met by her husband, as Lauren was at home tending to her newborn. Feeling so sorry for the disappointment on Maya's face, he handed her one of Lauren's business cards and urged Maya to send her a message. Intrigued by the sparkly gold card embellished with the illustration of an owl, Maya wrote a letter.
About a year after, Maya started investing at the early age of 12, possibly as a result of Lauren's reply. Lauren had sent back a copy of her book, signed, to make up for her absence. She also included early articles and notes of hers to assist Maya with the power of investing young. And Maya did not just run with her advice, but rather full-on sprinted towards discovering the absolute potential herself.
She began with her American Girl Dolls. These dolls are lovable icons of girlhood, but Maya found a use for hers beyond tea parties. "I saw that it would be worth more to actually buy Mattel," she said. So she sold her dolls and used the money to buy stock in their manufacturer.
Maya's investment in Mattel sprung her first blog post in 2012, in which she expressed the value of Mattel over the competing toy brand Hasbro. An editor at "The Motley Fool" reached out to Maya, and they spent the next three weeks editing her article and working to get it published. Four years later, Maya established her own blog, "Compounding Snowballs."
A year into blogging, Maya realized she was facing age criticism as one of her biggest obstacles. But the solution she found only furthered and continued to motivate her since the inception of her enterprise. "I found mentors in light of that," she said. "They [McGraw Hill] said no, but it wasn't just 'no.' It was 'no, but,' and then they pointed me in the right direction." she said. "I think it's powerful when I reach out and say, 'I'm a 15-year-old female investor.' And I'm thankful for the people who have stuck with me."
MPA is celebrating the book launch during Book Festival Week, where Maya will display, sell, and sign copies. "Compounding Snowballs" continues to grow too, as does her passion and skill as a writer. It hosts over 30 posts and has received attention from publications such as The Wall Street Journal. Maya also admits in her post "I Was Wrong," why she in fact was wrong about choosing Mattel over Hasbro. Perhaps it represents her growth as an investor and writer, but it confirms one thing for sure—she is an expert at being one step ahead.