June 1, 2017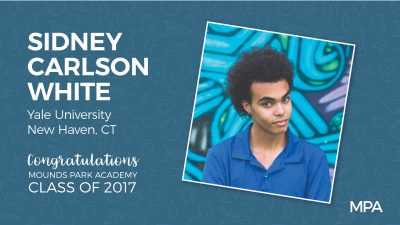 As the 2016–17 school year comes to an end, we're sharing the college choice stories of several members of the Class of 2017.
In what grade did you come to MPA? 9th
How did you come to choose the college that you did?
I really liked their economics program, and all of the internship and career support the school offers. I also really liked the way the housing system works—we are all randomly placed into one of 14 residential colleges on campus. Your college becomes your family, and they're usually your first friends. The other thing that I am excited for is how close it is to New York City. It's a long train ride (two hours) away, but being able to spend a weekend with my friends exploring the city will be wonderful.
What are you most excited about as you embark on your college experience?
I'm really excited about getting to meet new people from all corners of the United States and the world, and learn more about the ways in which the world works, whether it is terms of economics, politics, or something else entirely. I am really interested in being exposed to a wealth of new ideas and helping refine (or change—I'll never know!) my ideas and the things in which I believe.
What did you appreciate most about the college counseling process at MPA?
I really appreciated the help I got from Ms. Pederson. I am very thankful for her always believing in my potential throughout the process. It was very nice having someone to always turn to for an encouraging word or a bit of advice regarding an essay or supplement question.
What about your MPA experience has best prepared you for college?
The most important thing that I learned at MPA was how to have valuable discussions in and out of class with my peers. In college, I know that I have the tools to talk about any number of subjects, whether it is the proper role of government in the lives of the people or building a definitive ranking of every Pixar movie that has been released. It's very important that I have the tools to engage in respectful discussions with my classmates and professors, and MPA has equipped me well.
What is your advice for the Class of 2029 (kindergartners)?
Every wasted opportunity starts with a blank application/registration form.
Insights from Ms. Pederson, Director of College Counseling:
Sidney's insatiable curiosity and wide range of interests led him to take advantage of a great many opportunities at MPA. From studying Spanish, French, and even Arabic through our Malone Schools Online Network course access, to leading the Quiz Bowl team, copyediting the yearbook, and doing stats for the Panther Varsity Baseball Team, Sid has played a crucial role in many dimensions of MPA life. His position on the editorial board of the St. Paul Almanac provided him with a unique perspective as he worked on his essays—confident in his voice and topics, he nonetheless wanted to be sure he was coming across as intended in his applications. Meeting with Sid throughout the process as he worked on applications for schools coast to coast, I knew that he would have many wonderful university options to choose from. In the end, I wasn't surprised that he chose Yale in part for its residential college communities. Sid has highly valued his experience as a community member here at MPA and looks forward to building and expanding on that in his university years.
The 54 members of the Class of 2017 were offered admission to 113 different colleges/universities in 31 states, Washington D.C., and Canada. They will attend 33 different colleges/universities in 14 states. Learn more about MPA's College Counseling program here! >