June 18, 2017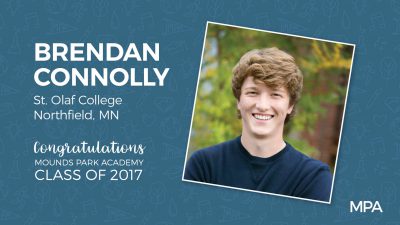 In what grade did you come to MPA? 4th
How did you come to choose the college that you did?
I applied to 13 schools, most of which were small liberal arts schools. In order to narrow down my final list of schools, I considered many different aspects of each school. However, three factors stood out as the most important while making my college decision: academic experience, athletics, and overall fit. St. Olaf has a strong political science and pre-law program, as well as an incredible career center. I am able to continue my baseball career at Olaf. And finally, during my campus visits, I felt very comfortable on campus and fit in well with the students and professors I met.
What are you most excited about as you embark on your college experience?
As I embark on my college experience, I am most excited to take advantage of everything college has to offer. I am looking forward to challenging myself not only from an academic sense, but a personal sense too. I am excited to use the fantastic education I have received at MPA as a platform to continue my learning at St. Olaf for the next four years, and hopefully law school following my undergraduate education.
What did you appreciate most about the college counseling process at MPA?
Prior to starting my college search process, I had heard wonderful things about the college counseling program at MPA. I was not disappointed. Ms. Pederson and Ms. Hager work tirelessly to provide the best college search experience possible for MPA students. During my own particular search, Ms. Pederson welcomed all of the times I asked her a quick question or needed to have a longer conversation about where I was in my college search process. The aspect that I appreciated most was having another caring individual to talk through my options and thoughts that had a different perspective from my parents and other people from whom I sought advice.
What about your MPA experience has best prepared you for college?
MPA prepares its students very well for college. I think something that sets MPA apart from other schools is that MPA students are allowed, in fact encouraged to overflow their buckets. It is not uncommon for an MPA student to be a multi-sport athlete, a member of the choir, a member of the band/orchestra, while also maintaining a high grade point average. Time management skills, as well as experience with being involved in lots of different things, is crucial in order to be successful in college. I think MPA prepares its students in this sense better than any school out there.
What is your advice for the Class of 2029 (kindergartners)?
My advice to the Class of 2029 would be to stay in the present. I know that is ironic since you have just started your schooling experience, but time flies. Staying in the present allows you to take advantage of every opportunity and helps discover your passions. People who are successful, no matter how you define success, reach that point by doing something they are passionate about.
Insights from Ms. Pederson, Director of College Counseling:
A three-sport athlete at MPA, Brendan knew he wanted an excellent academic experience in a liberal arts and sciences program for the next four years, but he also hoped to continue his athletic career. We worked pretty intensely on his resume so it would convey his strength in multiple areas, and then he reached out to admissions offices and coaches with that information. I really respect how Brendan balanced his primary desire for a strong academic experience with multiple opportunities to play sports, and the way he contemplated the role that coaches and future teammates would impact his college experience.
The 54 members of the Class of 2017 were offered admission to 113 different colleges/universities in 31 states, Washington D.C., and Canada. They will attend 33 different colleges/universities in 14 states. Learn more about MPA's College Counseling program here! >