June 6, 2017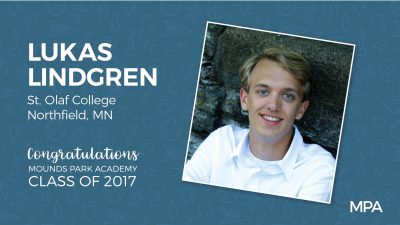 As the 2016–17 school year comes to an end, we're sharing the college choice stories of several members of the Class of 2017.
In what grade did you come to MPA? 7th
How did you come to choose the college that you did?
I chose a college based on faith and family. I felt going to St. Olaf would be best to further my relationship with God, so it was definitely the best choice for my faith. As for family, I have a lot of relatives who attended St. Olaf and I will be running in very tight-knit track and cross country programs.
What are you most excited about as you embark on your college experience?
I am most excited to explore my faith in depth. Between daily chapel services, faith-based student groups, easy access to college pastors, and my Hebrew history class, I feel that I am in for a fascinating faith experience in college.
What did you appreciate most about the college counseling process at MPA?
Ms. Pederson takes time to know each senior so she can write a quality letter of recommendation. Her individual touch has no peer among college counselors, as far as I know.
What about your MPA experience has best prepared you for college?
Going through MPA's rigorous writing curriculum will set me apart in college, and the same goes for my classmates. The Class of 2017 is proof that MPA is an institution that values good writing.
What is your advice for the Class of 2029 (kindergartners)?
At the end of school each day, take ten minutes to recite aloud all the things you did that day, good and bad.
Insights from Ms. Pederson, Director of College Counseling:
Like many MPA students, Lukas was able to present a college application featuring success and leadership in athletics, arts, and academics. His accomplishments earned him admission and scholarship offers at colleges from Massachusetts to Missouri, along with a few closer to home. While Lukas could see himself at any of the schools he was accepted to, ultimately he listened to his heart and chose St. Olaf. At MPA, we work hard to promote a culture supporting the "right fit" college for every student, which begins with students reflecting on their values and priorities and expands to include parents in the conversation as well. I have no doubt that Lukas's zest for life will set him apart at St. Olaf, and I wouldn't be surprised if he was recruited to be a tour guide, just as he was at MPA!
The 54 members of the Class of 2017 were offered admission to 113 different colleges/universities in 31 states, Washington D.C., and Canada. They will attend 33 different colleges/universities in 14 states. Learn more about MPA's College Counseling program here! >