January 11, 2018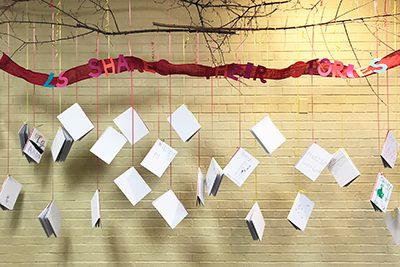 The goal of this year's Mounds Park Academy Parents Association Book Festival, themed "What's Your Story?," is to encourage reading and celebrate the power of storytelling. The Lower School students have shared their stories, which will be on display during Book Festival week! Also, as part of our storytelling theme, we are featuring the inspirational stories of famous people who have overcome adversity and gone on to pursue their dreams.
The MPA Parents Association invites you to join us for the many activities planned during this very special week at MPA!
Book Festival Family Night
Thursday, January 18, 3–6:30 PM
An incredible evening of entertainment, activities, crafts, games, book sales, and dinner!
Book-making with The Minnesota Center for Book Arts:
3–4 PM
Crafts in the Makerspace:
3–4 PM
Performance by The Minnesota Opera:
4–5 PM
Read to Fuzz the Therapy Dog:
4:30–6 PM (5-minute time slots) sign up >
Complimentary dinner:
5–6:30 PM
RSVP by emailing your family name and dinner count to seema_anwar@hotmail.com by January 15!
Note that The Minnesota Opera will be performing from 4–5 PM, and reading to Fuzz is available from 4:30–6 PM. Please choose your activity accordingly.
Bookstore in the Gallery
Tuesday, January 16, 12–3:30 PM
Wednesday, January 17, 7:45 AM–3:30 PM
Thursday, January 18, 7:45 AM–6:30 PM
Friday, January 19, 7:45–11 AM
New books will be available for purchase from our partners, Valley Bookseller and Usborne Books. A portion of each sale directly benefits the MPA Library. Lower School students will be visiting the Bookstore with Ms. Lage to browse and make wish lists. Parents can volunteer to help during their child's visit. Click here to sign up >
Used Book Sales During Lunch
January 16–19
Used book donations are still needed and appreciated. Collection carts are set up in the Lower School hallway and in Lansing Lobby. Remember to send change with your child during the week so that they may shop for their favorite authors! All books $.25 each!
Middle School Cafe
Wednesday, January 17–Thursday, January 18
Middle School students will get a chance to visit our bookstore and cafe where they can
browse our selection of books, relax with friends, and purchase drinks and pastries.
More parent volunteers are needed to staff the cafe! This is a wonderful way to support the Middle School community and this annual tradition. our help is greatly appreciated! Sign up for a shift (or more!) here >
Help us reduce waste: Donate your unused mugs and glasses to the Middle School Cafe! Drop off in the Parents Association room or Middle School Office.
If you have any questions or would like to get involved, contact Seema Anwar at seema_anwar@hotmail.com (Book Festival) or Ginnie Peterson at ginniepeterson@gmail.com (Middle School Cafe).