January 12, 2018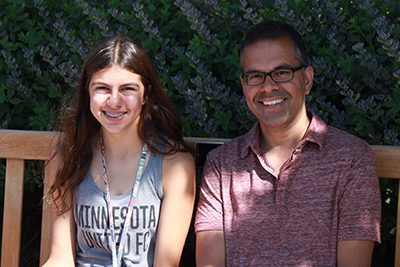 Lower, Middle, and Upper School Parent
Woodbury, Minnesota
What do you love about Mounds Park Academy?
The community.
How is your child encouraged to dream big and do right at Mounds Park Academy?
Through their teachers and friends. And from seeing the achievements of other students.
If your child has attended another school, how has your experience at Mounds Park Academy been different?
More challenging and more rewarding. Smaller class sizes. Mounds Park Academy has very engaged teachers who have the time to give valuable one-on-one feedback.
What would you tell another family considering Mounds Park Academy?
We were impressed by how welcoming the students and teachers were when our students started at MPA. And the teachers are very good at building students' foundational skills.
In what ways has Mounds Park Academy prepared your child for life in the 21st century?
They address multiple aspects of education including critical thinking, productive communication, and technology skills.
What do you hope for your children in 20 years?
To be happy and successful in a career and on a life path they enjoy and appreciate.
Is there anything else you'd like to share about your Mounds Park Academy experience?
We have been so happy with MPA that we brought both of our other younger children here this year.
Mounds Park Academy, a PreK-12 private school in Saint Paul, is currently accepting applications for the 2018-19 school year. For more information about admission and to schedule your tour, visit moundsparkacademy.org/admission. We look forward to getting to know your family!