January 25, 2018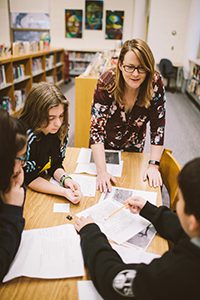 Thank you to everyone who came out to support Book Festival 2018! It was a joyful evening filled with book purchases, time with family, reading, and building community. On behalf of the Parents Association, a big thank you to the staff and faculty who helped out with the Book Festival: Alex Bolduan, Thomas Connors, Jake Eibon, Lauren Hernandez, Vern Kissner, Ariel Kitch, Nicole Koen, Nancy Lage, Bill Madigan, Pat Mclees, Patti Meras, Courtney Nagle, Kristine Petersen, Kristy Petrich, Doug Pittman, Susan Robertson, John Schneider, Becky Tesdahl, Natalie Waters Seum, and Renee Wright.
Conference week is coming up, February 5-9! Our faculty and staff spend extra hours at school during this week, and one way to help support them is to provide food, drinks, and snacks all day long (Dinner on Thursday night that week are provided by the PA directly!). Contributions from families are essential! Please consider signing up for any items you would like to contribute. Please click on the link to sign-up.
Items may be dropped off in the Parents Association room in the Cafeteria on the designated day between 7:30 and 8 AM, or at your convenience. There is a refrigerator for perishable items. Please leave a note on any items left in the PA room. Contact Tara Matthews-Lafferty at tmattrn@aol.com or Mary Messner at maryliz.messner@gmail.com with any questions. Thank you in advance for your support of MPA Faculty and Staff!