February 22, 2018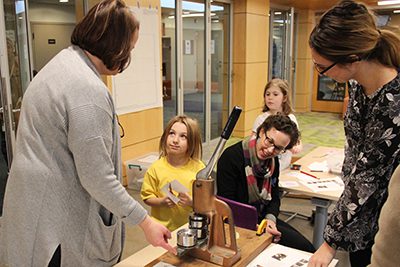 by Dr. Bill Hudson, Head of School
I was asked recently how I manage the workload of leading a PreK-12 school and the stress that sometimes comes along with my responsibilities. I have no secret other than approaching each day with gratitude. I read somewhere that research has demonstrated that people who are grateful are also the happiest. I know this to be true from my own experience, personally and professionally.
It may seem cheesy, but as I walk the halls from one meeting to another, I consciously look for reasons why I am grateful to serve at MPA and to lead this wonderful community. Sometimes simple, sometimes profound, my gratitude arises from an appreciation of the beautiful art hanging on our walls, from observing engaged students as I pass the Makerspace, from the joyfulness of our students in the hallways.
Recently, my gratitude has come from the involvement of the parent community in the life of the school. I am impressed by the work of the Parents Association that led to another superb Book Festival and Middle School Café last month. Both treasured MPA traditions, they not only advance a love of reading, but also build community among students and families. Only weeks later, parents came together to show their appreciate for faculty and staff by offering a fantastic array of treats during the Lower School and Middle School Parent-Teacher Conferences Week.
I am grateful for the active engagement of parents, faculty, staff, and alumni in supporting the school through philanthropy. Parent participation in the annual fund has increased 62 percent over the last three years and giving has increased 162 percent overall. Through the Fund A Need portion of our annual Spring Auction, we established the Digital Fab Lab, the Virtual Classroom, renovated the bathrooms, and upgraded the Black Box Theatre.
I am grateful for the many parents who serve as Parent Ambassadors for the Offices of Admission and Communications/Marketing, sharing their appreciation of MPA with prospective parents at Admission Previews and luncheons, and hosting admission events in their homes. The number of inquiries from prospective families coming to MPA as a result of a recommendation from a current parent has increased by 18 percent from last year. Undoubtedly, parents are our best advocates in our community.
Finally, I am grateful for the many hours of service parents provide by serving on the Board of Trustees, various Board committees, and committees such as the Spring Auction Committee. For instance, current parents comprise 60 percent of the Board and many more parents serve as non-voting members of the Finance and Development Committees.
Educational research into school effectiveness has found that students who practice thankfulness get better grades, have a lower risk of depression, and are more engaged in their hobbies and communities. Gratitude is interwoven throughout our character education programs at MPA. Coupled with a rigorous curriculum, students thrive in an environment that cultivates gratitude. In an era when discord and polarization seem to be the norm, practicing gratitude can go a long way toward diffusing anxiety and focusing on what is most important.