November 1, 2018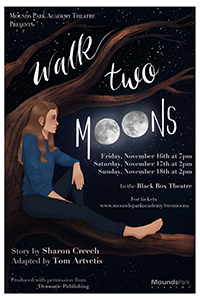 Tickets for the Middle School play, "Walk Two Moons," go on sale tomorrow, November 2, 2018! Purchase your tickets here!
"Walk Two Moons" is lovingly adapted for the stage with the same nuance and surprises offered by the original book. Utilizing multiple narrative frames, the play leaps back and forth through time and memory as 13-year-old Sal tells the story of the disappearance of her best friend Phoebe's mother. Determined to find her, the two girls begin seeing murderous plots and schemes around every corner. Sal shares these conspiracy theories with her Gram and Gramps during a cross-country road trip to confront her own mother, who left her and her father a year ago. But it is only through telling Phoebe's story that Sal truly understands why her mother left and whether or not they'll ever be together again.
This show is most appropriate for Middle School or older students due to the dramatic story line. The shows will be Friday, November 16 at 7 PM, Saturday, November 17 at 2 PM, and Sunday, November 18 at 2 PM.