November 8, 2018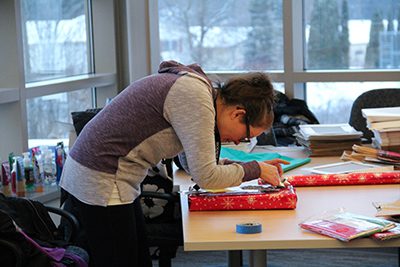 The Parents Association has many exciting upcoming community events! There are all-school, Lower School, Middle School, and Upper School events to join in on.
All School:
MPA Faculty and Staff Gift Wrapping
Join us for the annual MPA Faculty and Staff Gift Wrapping! As a continuation of Faculty and Staff Appreciation during the school year, the MPA Parents Association has a tradition of wrapping gifts for the MPA Faculty and Staff. Come be a part of this joyful experience! Sign up here to volunteer and wrap gifts for one hour, two hours, or as long as you like! The Parents Association will provide the gift wrapping and all the necessary equipment. We will also provide snacks and drinks–maybe a little holiday music, too! Please contact Tara Matthews-Lafferty at TMattRN@aol.com with any questions.
Parent Coffee
On Monday, November 12, from 8-9 AM in the Atrium, all parents are invited to join us for coffee and refreshments. This Parent Coffee is generously hosted by the Lower School grade reps.
Book Festival
Book Festival is an enjoyable community-building event that celebrates the joy of reading. The Parents Association encourages parents to help with planning this event! A planning meeting will be held on Friday, November 30 from 2-3 PM in the PA room. We hope to see you there!
Lower School:
Lower School Education Event
On Monday, December 10 from 8-9:30 AM, Dr. Nolan will be leading a discussion about Executive Functioning Skills–all parents are welcome to attend.
Middle School:
Middle School Cafe
The Middle School Cafe is a well-loved tradition where students in grades 5-8 get a chance to come together and socialize with their peers. The Parents Association is looking for volunteers to help plan this event. A planning meeting will be held on Thursday, November 15 from 1:30-2:30 PM in the PA room. Parents can join us and then stay for the Give to the Max Day Lip Sync Assembly, which is a lot of fun!
Middle School Education Event
On Thursday, November 29, from 8-9 AM in the PCR, parents, faculty, and staff are invited attend a Middle School Education event: Psychology & the Good Life presented by Laurie Santos. Learn what the science of psychology says about how to live a happier life. Santos shares the top insights from her Psychology and the Good Life class, the most popular class in Yale's 300+ year history in which almost a quarter of Yale students enrolled this year. She is professor of psychology and head of Silliman College at Yale University. Santos is an expert on human cognition and the cognitive biases that impede better choices. Her new course, "Psychology and the Good Life," teaches students how the science of psychology can provide important hints about how to make wiser choices and live a life that's happier and more fulfilling. Her course recently became Yale's most popular course in over 300 years, with almost one of our four students at Yale enrolled. Her course has been featured in news outlets including the "New York Times," "NBC Nightly News," "The Today Show," "GQ Magazine," "Slate," and "O! Magazine." A winner of numerous awards both for her science and teaching, she was recently voted as one of Popular Science Magazine's "Brilliant 10" young minds, and was named by "Time Magazine" as a "Leading Campus Celebrity." All are welcome.
Upper School: 
Upper School Faculty Dinner
The Upper School Faculty Dinner will be on December 6 from 5-7 PM in the PCR. More details to come!