November 15, 2018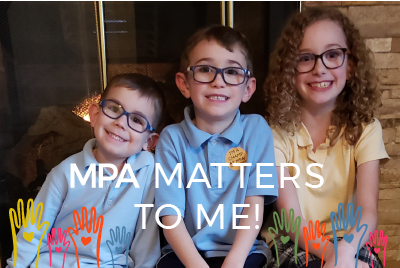 Happy Give To The Max Day! As of noon, MPA families have raised an incredible $48,565. If we reach $75,000, a generous family will give a bonus gift of $25,000 to get us to the goal of $100,000 today! Incredible!
As Dr. Hudson shared in his email on Tuesday, "Our young people desperately need an extended family, like the one MPA provides, to provide a safe, nurturing environment in which to thrive. And, our world desperately needs engaged, educated, ethical, and empowered citizens who are committed to improving our world. I contribute to the MPA Fund to make this happen and, if you haven't already, I humbly ask you to join me." Follow along on Facebook as MPA's community shares why MPA matters to each of them!
Please join Dr. Hudson, faculty, and staff, and make a gift …
DONATE ONLINE
Click here to donate online!
GIVE IN PERSON
Visit the Development Office in Lower School. We can accept cash, check, or credit and are open from 8 AM–4 PM.
MAKE A PLEDGE
You can pledge now and donate later. Make a pledge by simply emailing Jennifer Rogers, Director of Development and Community Engagement.
P.S. In celebration of such generosity displayed on Give to the Max Day, please join us for a Lip Sync Assembly this afternoon in the Lansing Sports Center at 2:20 PM featuring performances from across all divisions. You won't want to miss the fabulous line up of faculty and staff.
If you have any questions or need assistance, please contact Susan Robertson, Annual Giving & Alumni Relations Manager at 651-748-5531 or via email.