November 19, 2018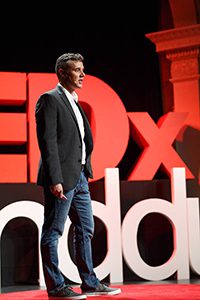 What are you currently doing, professionally and/or personally?
I'm a professor and chair of the psychology department at the University of Wisconsin-Green Bay. I'm an anger researcher and just recently did a TEDx talk called "The Upside of Anger."
How did you get there? Where did you attend college? Are there some career moves or other key experiences or relationships that have inspired you?
I went to the University of St. Thomas for undergrad and studied psychology. I earned my master's degree and Ph.D. from the University of Southern Mississippi in counseling psychology. After a year as a visiting professor at the University of Southern Mississippi, I got a job as an assistant professor here at UW-Green Bay.
How did your MPA experience prepare you for your life today? How did MPA help you dream big and do right?
There were a lot of little things that I learned at MPA that set me up for success (writing skills, public speaking, etc.), but honestly, what I'm most thankful for are the teachers who continued to believe in me even when I was difficult. I was not a great student and there were many times teachers could have given up on me. I am very thankful for those teachers who supported me and continue to support me.
What's next? Any aspirations—personal or professional—that you'd like to share?
The TED Talk was one of those career bucket list things that I'm very happy to have done. I'm at the stage of my career where I would like to write a book on anger and have been thinking lately about what to write about specifically.
This story is part of a series called The Year of 100 Stories, launched by the Mounds Park Academy Alumni Association in January 2018. All alumni are warmly invited to tell their story! Email alumni@moundsparkacademy.org for more information.