March 13, 2018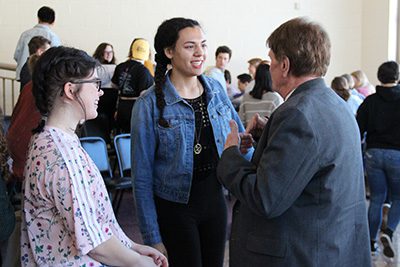 by Dr. Bill Hudson, Head of School
Our hearts have been heavy since the tragic school shooting in Florida last month. At the same time, we have been filled with hope witnessing young people around the world use their voices to ask for safer schools and less gun violence. MPA asks students to think critically and solve creatively. We ask them to dream big and do right, and that is exactly what we are seeing today's young people do.
Having just returned from the National Association of Independent Schools Annual Conference, school violence and student safety were frequent topics of conversation. Across our nation, independent school leaders agree that civil discourse, social justice, inclusion, and equity are all important aspects of the complex society in which we live and our students have an important role to play in that.
This week will bring student-organized events around the world, including a significant walkout in protest on March 14 from 10-10:17 AM. I am writing to share how MPA will approach this time and the entire week at each division level and as a PreK-12 community. As always, the safety of our students is a paramount concern and for that reason, students will not be allowed to physically "walk out" of the building at any division level. Guided by our school's mission and core values, students, teachers, and the administrative team have come together to ensure that every student will be appropriately empowered and respected this week. Together, they are viewing this as another opportunity to inspire students to identify problems in our community and world, use their values and knowledge to address them, and develop the confidence and courage to challenge the status quo.
Upper School
Student leaders are planning a week of action in Upper School. To get the conversation started, on Tuesday, March 13, students organized a Town Hall meeting with Minnesota State Senators Mark Johnson (R) and Chuck Wiger (D). They share, "We would like to use this opportunity to facilitate a meaningful discussion between students and bipartisan policymakers about how we can work together to keep our schools and communities safe, and to hear from a variety of viewpoints on this issue." This is an optional event that will be held in the Recital Hall from 11:30 AM-12:15 PM.
On Wednesday, March 14, instead of walking out, Upper School students organized an opportunity to stay in and participate in 17 Minutes of Action from 10-10:17 AM followed by a student-facilitated debrief from 10:20-10:30 AM. Stations in the Commons will allow students to write postcards and make phone calls to their legislators and, for those who turn 18 before November, register to vote with the League of Women Voters. This will be a time for students to share their own personal perspectives and privacy will be possible during the phone calls. The debrief will allow student leaders to share the inspiration of the event, the goal for what their peers and they hoped to achieve, and they will also hold a moment of silence to honor the lives lost in the school shooting at Marjory Stoneman Douglas High School in Parkland, Florida. Classrooms will be open for students who do not wish to participate so that they may engage with the topic and each other in their own way. Time for the 17 Minutes of Action and the debrief is being made possible by an adjustment to the schedule that day. The campus will be considered closed for seniors during the walkout time.
To conclude the activities of the week, on Thursday, March 15, the Social Consciousness Club meeting will offer students a time to process the week and think ahead to how they may continue taking action.
Please note that all of these activities have been organized by Upper School student leaders. They have been exceptionally respectful of their classmates, teachers, and administrators and kept in close touch with them throughout the planning.
Middle School
This is i-Term week in Middle School, a very special time when each student is engaged in an inquiry-based, experiential learning opportunity of their own choice. Many of the i-Term classes are venturing off campus for all or part of the week and all classes have robust schedules planned. For that reason, the Middle School is not offering any activities related to this topic.
However, one Middle School i-Term class, "Social Change: Discovering Your Voice," will attend Wednesday's 17 Minutes of Action in the Upper School because the subject matter of the class is an appropriate fit. Students may choose to be participants or observers. In addition, this class will explore the National WalkUp Movement that calls on students to "Walk up to someone who has different views than you and get to know him/her. Walk up to 14 students and three teachers and say something kind. Honor the lives of those lost by walking up, not out." This movement aligns well with the Middle School Mind-Person-Action character education program and is developmentally appropriate for this age level.
Lower School
The Lower School will also take a developmentally appropriate approach to the week, recognizing that this topic may be unsettling to students at this age. Ms. Wright, Lower School director, will recommend specific picture books for teachers to read aloud throughout the week to reinforce CHAMP themes such as inclusiveness, courage, responsibility, and compassion. All of these themes allow students to consider their own role in making positive change and encourage them to use their voices for good in our world.
PreK-12
Finally, I would like to share some ways that the administrative team is taking action this week. One way that MPA provides a physically safe school is by staying in close contact with our community partners and we have two examples of that planned this week:
Lonn Bakke, our School Resource Officer from the Maplewood Police Department, will attend our administrative team meeting on Tuesday, March 13 to engage in a conversation related to school safety. This will be a time for us to ask questions about our current procedures and identify action steps to continuously improve.
Shawn Conway, the Maplewood Fire Department battalion chief of operations and training, will be on campus to debrief about the gas event on Friday. While the event went exceptionally well, every opportunity to engage our emergency plan offers lessons learned and working with Chief Conway will allow us to best identify those.
I would like to close by sharing that I am exceptionally proud of the way this week is being approached here, guided by our mission and values and with a commitment to inclusion and civil discourse. Our world desperately needs more engaged, educated, and empowered citizens who are dedicated to improving it and that starts at Mounds Park Academy. Our students dream big and do right every day and will continue to do so long after this week concludes.