March 8, 2018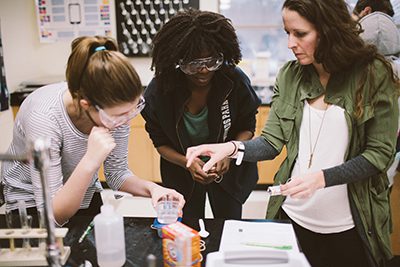 by Dr. Bill Hudson, Head of School
I'm writing to you from Atlanta, Georgia this week where I am attending the 2018 National Association of Independent Schools Annual Conference. Before our sessions began, I was very fortunate to have dinner with Bisma Punjani, a member of MPA's Class of 2017. While it is sometimes difficult to find the time, connecting with local alums is something I try to do on all of my travels and I was grateful that she was willing to join me.
Bisma is attending Oxford College of Emory University, set apart on Emory's original campus in Oxford, Georgia. She chose a small college setting with an innovative liberal arts curriculum. According to its website:
students thrive in a close-knit community;
professors take the time to talk when students need it;
peers constantly stop to say hello; and
the countless features of learning and living there surprise and delight.
This sounds a lot like Mounds Park Academy, doesn't it? And after spending 13 years of her life at MPA, it's no wonder that Bisma was seeking a higher education experience that felt somewhat familiar. Our conversation over dinner centered on community—the community she has found at Oxford College and the community she misses being a part of every day at Mounds Park Academy. She noted how both have empowered her, encouraged her to think critically about our world, and fostered the desire to learn for the sake of learning.
MPA is very proud to offer this to its students, but also to its parents. We partner closely with the Parents Association to offer parent education sessions. My sense is that parents walk away having gained a helpful piece of advice or two, and, more importantly, feeling empowered to follow a path that is in line with their own thinking. Another similar opportunity is approaching—MPA Talks will be held next Tuesday, March 13, 5-7 PM. Like TED Talks, we will draw together our community to hear from interesting people who are doing interesting things. These people are some of the freethinkers, free spirits, risk takers, and right makers of our community. They are the dreamers and doers our world needs now, more than ever.
Dr. Sheneeta White, a Lower School parent and an associate professor of operations and supply chain management at the University of St. Thomas, will talk about the philosophy of "lean" to show how some amazing women came to power. How did these women eliminate "waste" from their lives? How do they "add value" everywhere they go? She is a published author in a male-dominated field and offers a message that is both motivating and uplifting for women (and men) of all ages.
Ling DeBellis is a junior at MPA and a member of the Young Women's Initiative Cabinet of Minnesota. Through that leadership role, she is advocating for a better Minnesota, where all women will have the opportunity to thrive. She will share her own personal story of dedication and perseverance. As a life-long patient at Gillette Children's Specialty Healthcare with an undiagnosed neuromuscular condition, she approaches life with wisdom and wit far beyond her years and will be unforgettable.
And finally, Hannah Sullivan will ask all of us to think about our careers—current and future. What does it look like when we create a career that gives us a sense of pride and purpose? And, if we are in a career that is seemingly without that spark, how can we make space to engage our passions? These questions are poignant for both our students and also ourselves. Hannah attended MIT and has been a beloved science teacher at MPA since 2004 (minus a hiatus to work at a cycling and triathlon shop!). She will be engaging and enlightening.
Bring along your Middle and Upper School students and while Lower School students are welcome, they could also be cared for by Panther Club staff at no charge. Dinner will be provided for them there, while we will enjoy heavy hors d'oeuvres. No RSVP is required, except for childcare. Full details can be found at moundsparkacademy.org/MPATalks.
I know that sometimes it's hard to find the time to add "one more thing." But just like I felt after dinner with Bisma, I'm confident that you will leave MPA Talks feeling inspired and filled with hope. I'm confident that you will leave as grateful for our community as I am.