August 7, 2018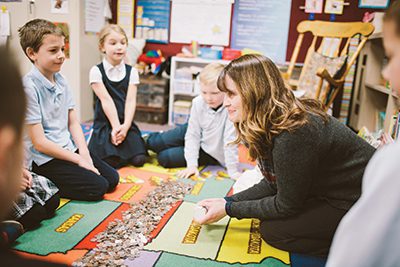 Philanthropic support ensures that MPA remains at the cutting edge of education. Gifts of every size are essential for MPA to reach new heights. The whole community is invited to come together and participate in the Fall Campaign and to attend our only fundraising event of the year, the Spring Auction. There are many opportunities throughout the year to get involved and make a difference!
Gifts to the MPA Fund help:
Recruit and retain the best-in-class educators

Secure classroom resources and equipment including technology
Provide tuition assistance to deserving students
Maintain the safety and beauty of our 32-acre campus
Provide experiential learning opportunities for all students
Fall Campaign: Joyful Learning, Joyful Giving · October 15–November 16, 2018
The Fall Campaign is the most critical fundraising effort of the year. During these ve weeks we encourage everyone in the community to participate in giving at whatever capacity may be comfortable for your family. Gifts to the MPA Fund have a direct impact on the daily lives of our students. Join us at the all-school assembly on November 15 celebrating Give to the Max Day and celebrating our beloved teacher lip syncs.
Spring Auction · May 11, 2019
Save the date for one of the most exciting and uplifting events of the year! On this night, supporters of MPA come together to build community, celebrate the year, and raise much-needed funds. The Spring Auction provides opportunities to make an impact through sponsorships, tickets sales, and a live and silent auction. It also allows us to support important speci c initiatives through the Fund a Need portion of the evening.
For more information, please contact Susan Robertson, Annual Giving and Alumni Relations Manager, at 651-748-5531 or srobertson@moundsparkacademy.org.