March 6, 2019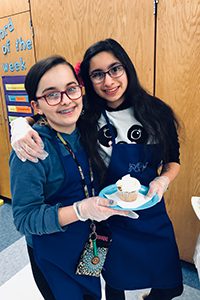 We hope you enjoyed the Book Festival last week and appreciate your support! It takes a lot of volunteers and staff to put on such an event and our amazing MPA community is always ready to help. On behalf of the Parents Association, thank you to the following parents, staff, faculty and students for helping make the 2019 Book Festival a success.
Thank you to Seema Anwar, Alex Bolduan, Thomas Connors, Christine Daves, Andy Gibert, Fabiola Grubhofer, Lauren Hernandez, Erica Huppert, Kimberly Jakway, Vern Kissner, Susan Knapp, Nicole Koen, Nancy Lage, Christine Larson, Richard Liu, Sandy Martinek, Tara Matthews-Lafferty, Pat McLees, Yukiko Miyokawa, Jenn Milam, Prashant Nayak, Heidi Nelson Baldwin, Chef Doug Pittman, Susan Robertson, John Schneider, Cari Simonson, Becky Tesdahl, Melissa Tuura-Johnson, Lisa Vale, Natalie Waters Seum, Maddy Wolfe, Renee Wright, Wen Yu, and Evie Zeruhn.
We also have many student volunteers to thank this year! Book Festival wouldn't have been so successful and special without you! A warm thank you to Annika B., Emily B., Navreen B., Khushi J., Beldaja Jama, Emma L., Owen L., Kitty Li, Cloris Lin, Gabe M., Maren Gunderson, Zaara N., Zoya N., Lia S., and Eirwyn Walter.