May 23, 2019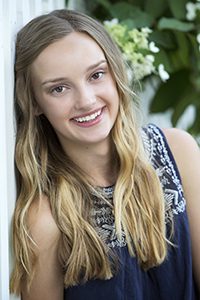 As the 2018–19 school year comes to an end, we're sharing the college choice stories of several members of the Class of 2019!
In what grade did you come to MPA? 
I'm proud to call myself an MPA lifer. It's crazy to think only 13 years ago I was sitting in Ms. P's class learning the alphabet!
How did you come to choose the college that you did?
I first heard about Georgetown through Ms. Kunze, my Spanish teacher and speech coach, who said a previous MPA student, Aniket Naravane, had just graduated from Georgetown and loved it. In particular, she mentioned how Aniket loved the global outlook on learning, their focus on care for others, and the overall happiness of the students. After researching Georgetown, my mom and I visited the campus, and I immediately fell in love. The students were engaged and weren't afraid to speak their mind, but they were incredibly kind too. Having a community of older students who mentor younger students and professors closely bonded to their students was very important to me, and I could clearly see that exemplified during my visit.
What are you most excited about as you embark on your college experience?
I am so excited to live in D.C.! As someone who loves museums and politics, I can't think of a better place to live. D.C. also has a lot of great opportunities for internships; I've listened to NPR since I was a young child, so I'm hoping I can intern at their headquarters or at the Capitol sometime over the next four years.
What did you appreciate most about the college counseling process at MPA?
Ms. Peterson makes the college counseling process so manageable and enjoyable. She gets to know her students well throughout high school, so when we start applying to colleges and writing essays, she personalizes our experiences to help us find the best fit. Also, she is just the sweetest! I love stopping in her room to have a cup of coffee and chat.
What about your MPA experience has best prepared you for college?
MPA has helped me learn how to speak my mind and be open to debate. I know at college I won't be afraid to present my ideas and defend them, too. By creating a space where I can take risks and make mistakes, MPA has inspired me to think independently and try new things.
What is your advice for MPA's Class of 2031 (kindergartners)?
Always remember to be grateful. Sometimes in the stress of tests and homework it is easy to forget how lucky you are to attend a school as great as MPA. A little thank you to your teachers and guardians can go a long way!
Insight from Ms. Pederson, Director of College Counseling:
Gabby is one of most reflective students I've worked with in my career. The combination of her thoughtful self-understanding and thorough research of universities enabled her to focus on exploring campuses that met a well-defined set of criteria. When Gabby visited Georgetown, she was fortunate to experience the elusive "gut feeling" that confirmed it as her top-choice school, since it had already ticked off boxes for excellent academics, students engaged in the world, and a desirable location, among other factors. From there, she worked hard to communicate in her application that sense of fit she felt with the Georgetown community. I believe that Gabby's MPA diverse experiences as a leader in music, athletics, Social Consciousness Club, and as a teaching fellow with Breakthrough Twin Cities, combined with her unique reflections on her experience as a beekeeper, helped to distinguish her in Georgetown's applicant pool. I can imagine Gabby finding success in any direction she chooses to go, so I hope she'll stop back for a chat and coffee as an alumna for many years to come!
The 55 members of the Class of 2019 were offered admission to 107 different colleges and universities in 30 states, Washington, D.C. and Canada. They will attend 44 different schools in 18 states and Washington, D.C. Learn more about MPA's College Counseling program here!