August 6, 2019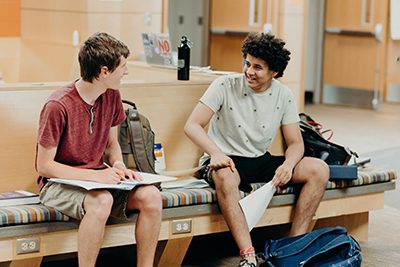 Early fall is bittersweet. It serves as a pause between a memorable summer and the excitement of a new academic year. For many families it's also a time to reconsider the best fit for their child's education, and to consider a change.
"During this time of year, there are two main reasons why families may be looking to consider a different school," says Craig Dodson, director of admission at Mounds Park Academy. "Some are families who are experiencing an unexpected life change, such as relocation from another city. Others are those who find themselves not happy with the way the school year has begun."
The good news, reassures Dodson, is that for both types of families it's not too late to choose MPA. "Even though the standard admission schedule occurs in the spring, we definitely have an open door policy and continue to work with families into the new school year," he explains. "No matter when a student joins us, our admissions staff, faculty, and ambassadors do an amazing job of helping students and their families transition to MPA."
One of the first things the team does is de-stress the situation. "Many times people come to us in a bit of a panic, worried that they've missed a window of opportunity to join our school. But that's not the case," says Dodson. "Not only do we welcome students throughout the calendar year, we work quickly to help students get to know the school and connect with the community."
Every family who joins MPA outside of the usual admission cycle receives personalized support from both the Admission staff and the Division staff. Lower School students get grounded in classroom schedules, expectations and activities, and Middle and Upper School students are advised on course selections and placement, ensuring that students are challenged but not overwhelmed as they switch to a new school.
Another core element of making a successful switch is building relationships from day one. Families in Lower and Middle School are matched with returning families, creating a buddy system with someone who has navigated the same experience. New Upper School students participate in a series of student and family events hosted by MPA's Peer Leaders, ensuring connections take place. "Our current MPA families do an amazing job of reaching out to new families, offering camaraderie and reassurance, and sharing their tips on starting with a new school outside of the usual timeline," he says. "Also, our Admissions team not only supports the school, but we are personally part of it—in addition to our professional lives at MPA, we are all either current parents or MPA alumni. We know the school inside and out, have deep roots here, and help families make meaningful connections as they begin their time at MPA."
Along with the academic and social support system that MPA offers, the entire Admission Office brings a large dose of empathy to the process. "We want families to join our community when it's right for them, when their student will have the best transition," explains Dodson. "Sometimes it's a conversation that continues over weeks or months, and understandably so—making the move to a new school is a significant event, and we understand that many dynamics come into play."
And what happens if a family completes all the admission steps, is introduced to MPA and its community, but isn't quite ready to make the leap to a new school? That's okay. In fact, it's a healthy part of the process.
"Changing schools, even in the best circumstances, should be well thought out," Dodson says. "If a family isn't sure and wants to start at their current school to see how it goes, we're supportive of that. We want all students, wherever they attend school, to be happy and healthy, learning and thriving. But if a family is finding that their current situation is not ideal, we'd love to work with them and coordinate the timing for a mid-year transition. We're thrilled to have those families join MPA."
To learn more about moving to MPA, visit moundsparkacademy.org/admission, email us, or call 651-748-5577. We'd love to get to know you and your family!