September 30, 2019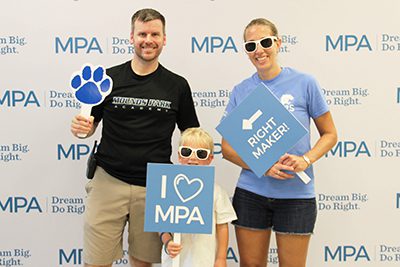 Lower School parent
How many years have you been at MPA?
Three years as a Lower School parent.
What do you love about MPA?
I love that MPA celebrates differing opinions, backgrounds of thought, cultures, and beliefs and demands that students and faculty alike appreciate the collaboration needed to advance our globalized society.
How does MPA nurture students who forever dream big and do right?
MPA's mission, driven by the amazing faculty, instills the simple, yet often forgotten belief in every child that the world is full of wonder. Students can, should, and do dream about what they can accomplish in school and in life beyond MPA. Moreover, they do it together by enlisting high ethical standards of equality, justice, inclusivity and responsibility as they work collaboratively to learn, grow, and find success.
What would you tell a parent considering MPA?
If empathy and compassion are of equal importance in your child as deep inquiry, knowledge attainment, and engaged learning, there is no other place to consider than MPA.
In what ways are you preparing students for life in the 21st century?
By ensuring they have access to an education and experience offered by MPA.
What do you hope for MPA students in 20 years?
I hope MPA will continue to be preparing students for careers and a world that has yet to be invented.
Mounds Park Academy, a PreK-12 private school in Saint Paul, is currently accepting applications for the 2019-20 school year. For more information about admission and to schedule your tour, visit moundsparkacademy.org/admission. We look forward to getting to know your family!