March 8, 2019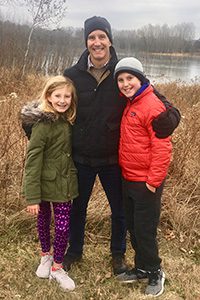 There are freethinkers, free spirits, risk takers, right makers, dreamers, and doers who are standing up to support Together, We Dream. Here is one story that explains why. Meet Bob King, MPA parent. 
What impact do you see the completion of Together, We Dream: The Campaign for MPA having on your family?
I believe the Together, We Dream campaign will serve to enrich the MPA experience.
Why do you choose to give to Together, We Dream?
MPA has been a transformational experience for my children. The whole child focus and the passion of the faculty and staff are unrivaled. Knowing that we are supporting such a worthy school and helping to ensure the long term growth of MPA is important to our family.
How do you see the four priorities impacting the student experience?
The four priorities are a combination of things that will both enrich the experience of MPA students today while also reinforcing the foundation for the school in the future. I am excited to see my kids enjoy the improved facilities, and also know that growing the endowment will only help the school in years to come.
What is your dream for the future of MPA and how do you see Together, We Dream working toward your dream?
My dream for MPA is that it continues to graduate students who are ready for the real world—students that have diverse backgrounds and experiences who have learned to be contributing citizens of our world. This campaign will only serve to support and reinforce accessibility to that dream.
Is there anything else you'd like to share about your MPA experience?
MPA is such a unique experience, and it is derived primarily from the passion and commitment of faculty and staff. We love MPA for so many reasons, but ultimately it is because of the people in the community who are so committed to helping our children learn, grow, and succeed.
Honor where we've been. Power our way forward. Make a gift at moundsparkacademy.org/donate/together.