May 9, 2019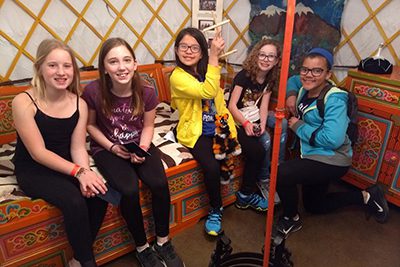 Last Friday, May 3, fourth graders celebrated the end of the school year by participating in a culminating event of Lower School: a foreign language overnight! In years past, this  took place at Concordia Language Villages in Bemidji, but when they couldn't host it this year, our very own foreign language teachers came together to create a completely unique and engaging experience for the students.
The group had a packed schedule! First, they visited the Festival of Nations in St. Paul and then stopped by El Burrito Mercado, an authentic Mexican deli selling groceries and arts and crafts directly from artisans in Mexico. When they arrived back at school, they sang and danced with guest musicians and then enjoyed a six-course dinner prepared by MPA's Chef Doug. The dinner alternated between a French course and a Spanish course, enabling the students to have the opportunity to try different dishes from regions around the world. After dinner, the students cozied up with a movie and a "camp fire" in the library, made creatively from string lights and smooth stones. In the morning, the event concluded with crepes and churros for breakfast in the Makerspace.
"Our goal centered around creating a community building event where the students could learn about other cultures and also celebrate the language they are currently taking at MPA," says Lower and Middle School French teacher, Liz DesLauriers. Thank you to the faculty, staff, and parents for helping make this event a resounding success! To see more photos from the overnight, click here.