June 10, 2019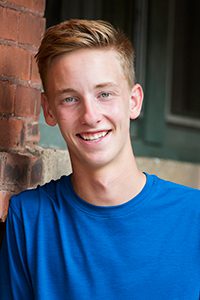 As the 2018–19 school year comes to an end, we're sharing the college choice stories of several members of the Class of 2019!
In what grade did you come to MPA?
I started at MPA in Kindergarten.
How did you come to choose the college that you did?
I chose Babson for its stellar reputation in business and entrepreneurship, as well as its nationally ranked tennis program. There, I will be able to push myself athletically as well as continue my business passion.
What are you most excited about as you embark on your college experience?
I am incredibly excited about the independence that comes with college away from home. Living next to Boston gives me the opportunity to experience a new landscape, meet new people, and find interesting jobs and internships.
What did you appreciate most about the college counseling process at MPA?
The amount of time focused on standardized test preparation, college essay writing, and researching colleges starting sophomore year is something I have come to appreciate after the fact. I consistently felt more prepared for the college application process than my peers at other schools.
What about your MPA experience has best prepared you for college?
MPA has given me the courage to communicate with whomever I want to, which is going to be an important skill when traveling to a new place in search of an unknown future.
What is your advice for MPA's Class of 2031 (kindergartners)?
Make lots of friends! Try talking to a new person whenever you can. Also, smile and try your best to have fun in whatever you do.
Insight from Ms. Pederson, Director of College Counseling:
Parker's passion to pursue business and entrepreneurship made Babson an early contender in his college search. Visiting campus confirmed that he also was a great fit for their academically talented community of self-starters. A recruited player for their tennis team, Parker is sure to be a strong contributor, coming off his recent state title wins both individually and with the MPA team! In addition to his time spent on the courts, Parker also played string bass in MPA ensembles, was a Peer Leader and Ambassador, served as a photographer on the yearbook staff, and for several years has run his own successful racquet stringing business. I believe Parker's ability to talk easily with anyone, from delighted Lower Schoolers to adult professionals, will propel him to success in any future endeavor. It will be fun to follow his progress in the years to come!
The 55 members of the Class of 2019 were offered admission to 107 different colleges and universities in 30 states, Washington, D.C. and Canada. They will attend 44 different schools in 18 states and Washington, D.C. Learn more about MPA's College Counseling program here!