June 5, 2019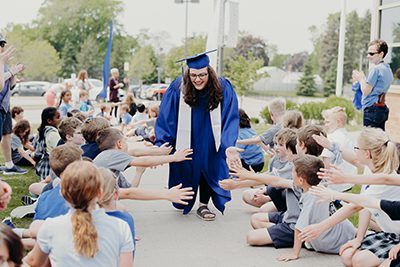 On Tuesday afternoon, I had the privilege of attending the presentations of three seniors who will graduate having earned a Graduate Certificate of Distinction in the Fine Arts. If you are not familiar with the Graduate Certificate of Distinction (GCD), it is designed for students ready and willing to pursue their passions through additional and focused coursework, research, and volunteerism. The GCD allows students to dive deeper into one area of their choosing: STEM, Global Studies, or the Fine Arts. The depth of inquiry that students experience through achieving a Certificate typically simulates what they will find in college, requiring hundreds of hours beyond the classroom.
I was struck by the growth each student experienced during their time at MPA as they pursued their passion for art. In the words of art teacher Lisa Buck, "Each showed (just) snippets of their artworks in their high school years that spoke to an inner calling, a sense of self-worth and self-image that has now framed who they will become." The sense of self, discovered and honed, during their time at MPA is perhaps the greatest outcome I could hope for as head of school. To witness, and perhaps be a party, to that transformation is at the heart of an educator.
The stories of the three seniors awarded a GCD are just three of many stories of transformation over the past year. I began the school year in front of students, parents, faculty and staff encouraging all to "write the next chapter of MPA." Building upon the theme of last year's yearbook, in August I said, "We are our stories, a beautiful mosaic of individual narratives that come together and create something wholly new and original."
As I look back over the past year, together, we have written a remarkably compelling chapter. Together, we have accomplished great things:
Our ISACS reaccreditation process was successful and resulted in a glowing report from our Visiting Team.
Ninety new students and their families were warmly welcomed to MPA and they enriched our community in countless ways.
Nearly 600 families have come together to invest $4.2 million dollars thus far to create enhanced learning and social environments. Important milestones were met, and construction has begun on two critical priorities.
The 55 graduating seniors of the Class of 2019 were offered admission to 107 different colleges and universities in 30 states, Washington, D.C., and Canada. They will attend 44 different schools in 18 states and Washington, D.C.
Approximately 6,127 volunteer hours were given by 298 volunteers during the school year, maximizing capacity and student success hour-by-hour.
Students experienced incredible success in the classroom, studio, stage, and playing field including two National Merit Finalists and one National Merit Commended student, 12 students recognized with Minnesota Scholastic Art Awards, 17 students who advanced to State in speech, eight sports advancing to state, to name a few, in addition to a million moments when students discovered their own versions of amazing.
As the school year draws to a close, I want to thank you for entrusting your children to us. I also want to thank you for investing your expertise, volunteering your time and contributing your financial resources to the school. I am continually in awe of the generosity of the MPA community and grateful for the partnership between families and the school.
As all of us part ways for a few months, I extend my warm wishes for a restful and relaxing summer. I hope you will enjoy time with family and loved ones and look forward to coming together again in August.