May 18, 2020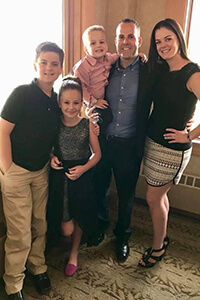 Tell us more about your new role.
I'm taking over leadership of Private Wealth Management at U.S. Bank as the new Managing Director and Senior Vice President.
Where did you attend college and what did you study?
I attended Franklin & Marshall College in Pennsylvania before moving back to the Twin Cities in 2004.  I have worked in financial services since then.
How did your MPA experience prepare you for your life today?
MPA was an absolute blessing for me. I only attended for two years but most of my closest friends in the world were classmates of mine at MPA.
What's next?
Moving to Naples, Florida where my new job is located and hopefully continuing to move up at US Bank!
Do you have any aspirations–personal or professional–that you'd like to share? 
I'd like to continue to raise my children to be good people.
What's your favorite memory from your time at MPA? 
I have so many but soccer with Mr. Jensen is probably my favorite memories. It was a special time.
Congratulations, Trey! Good luck in your new role!