July 13, 2020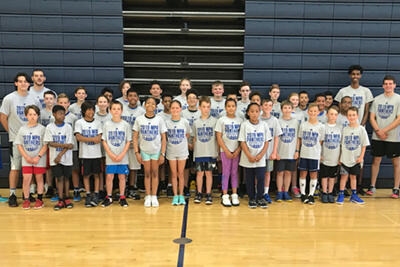 Children entering grades 4-9 this fall are invited to Summer Basketball Camp at MPA held Monday July 27-Thursday, July 30 from 9-11 AM. On behalf of Boys Varsity Basketball Coach Jacob Schwartz, and our entire program, we are looking forward to a safe and enjoyable camp. This camp is for MPA and non MPA students at all skill levels, so whether your child is looking for a chance to hone their skills after a summer of AAU, or try basketball for the first time in a welcoming environment, MPA's camp is open to all. Mounds Park Academy's Summer Basketball Camp costs $75 per camper, via check/cash/Venmo on the first day of camp, and includes a camp t-shirt.
A quick note on safety: From prearrival home screenings, to all participants and coaches wearing masks, to temperature checks on arrival, keeping a safe, healthy, COVID-free camp environment is our number one priority. We will be employing 27 distinct protocols and safeguards. More information on safety is available on our registration page.
Register here and contact Nate Bander with any questions.