January 14, 2020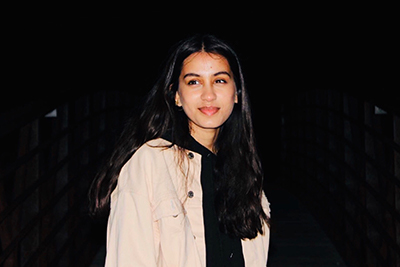 The following essay is adapted from MPA Class of 2020 member Sehar Mapara's Senior Speech.
Who I am today is a result of my diverse background and my family. I was born in Karachi, Pakistan with a loving father, mother and brother. At just a month old, I was already cruising on a plane flying from country to country because of my dad's job.  Leaving my loving grandparents, Nani and Papa, my cousins, my friends, and my home at such a young age seemed easy at the moment but the further I went from my roots, the more confused I became about my identity.
Time went on, and we moved to Saudi Arabia, then to Dubai. I was a nerdy-looking little girl with brown skin in a classroom filled with international kids. I made some white friends and thought of myself as a whole new person.  It amazes me how even in the third grade, I was so influenced by the concept of looking different. Regardless, I started to love Dubai, my home, my friends, and my school, but before I knew it, it was time to move.
I found out I was moving to South Africa, which I don't think I could even find on a map at the time.  My fifth grade self really thought the world was coming to an end. On the night before we left, I got an important piece of advice that still resonates with me. "Imagine that you're on a train and these are just a bunch of stops until you get to the place you need to be." There I was in the summer of 2012, getting ready to journey to the next stop in my life.
I met two of the most important people in my life in South Africa, Mahnur and Diego. Despite moving several times since then, they have never let go of me and always taught me how to love myself. I found a family in Johannesburg that brought out the best in me. As my time in Johannesburg was coming to an end, I began to cherish everything about South Africa. The rich culture and intricate history in that country gave me a new perspective on the world.
A 16 hour fight later, I was in Warsaw, Poland, another country that I wouldn't have been able to point out on a map. And this was a 180-degree turn from what I experienced in South Africa. I went from living in a country with a population consisting predominantly of people of color, to a country with a 97% white population. I was the only brown person in my grade, and honestly, it was awesome, because I was transitioning into a new period in my life where I was proud of my ethnic heritage and proud that I did not look like everyone around me. I would occasionally get stared at and pointed at, but that made me feel unique. I adapted pretty quickly, got used to the city and slowly began to love it.
But another new city didn't come without some bumps in the road. Like many, I struggled with my mental health for some time. I was desperate for that feeling where I could hold on to something and never have to leave it behind. That is when I turned to art. I am grateful to my mom for dragging me to the museums and galleries across Europe that shaped me into the artist I am today. She saw something in me that no one else did, and without her, I wouldn't have found this outlet in my life. Picasso, Degas, Monet, and Da Vinci all inspired me to turn to the world of art as a way of understanding myself.
I thought I was going to graduate in Warsaw but then, surprise, one more stop. This time there was no crying, I packed my stuff, waved goodbye to my friends, and came to America and MPA in the summer before 12th grade.
MPA has helped me a lot in the transition to Minnesota, and I have met a wide range of people who I would never expect to meet. I look forward to coming to school every day. The Class of 2020 is a community I would never have guessed I would be a part of, and nor did I ever in a million years envision that I would be graduating with them here in Minnesota. Yet, now that I am here, I'm proud to be a part of it and I look forward to walking across the stage at graduation with all of my peers in June. As college approaches, I know new stops along the train will be coming, and I will get closer to my destination through every stop.
There is one final thing that I'd like to mention. Moving so many times has helped me to see just how fortunate I am. In every single city that I've been to, I've seen the injustices that people all around the world face. I have encountered many minorities, women, and dispossessed peoples who have been long subdued through economic and political pressure and persecution. They include the Chechnian refugees in Warsaw, children being forced into labor in Karachi's streets, and South African apartheid victims living in the unsafe slums of Johannesburg.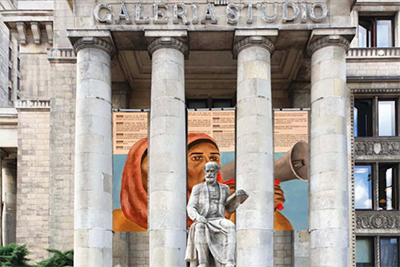 I am thankful that I was given the opportunity to speak up about one of these injustices. Last month, my painting, which promoted the rights of Chechen refugees, was showcased in an exhibition in one of Warsaw's museums. Seeing my work progress from my art studio to being displayed in one of Warsaw's most prominent buildings was a transformative experience and it showed me how to use my privilege to make a bold-political statement in a country where free speech is highly controversial. I am grateful that I am fortunate enough to be a woman of color who can speak up about a controversial issue like refugee rights and immigration laws, without facing the repercussions that afflict many who raise their voice.