February 6, 2020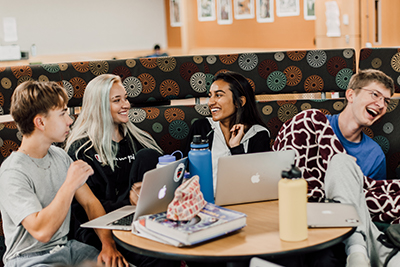 by Dr. Bill Hudson, Head of School
As we approach the end of our current 5-year strategic plan, Momentum 2020, work is underway to lay the foundation for our next plan. Under the leadership of the Board of Trustees and the school's administration, the MPA community is engaged in a conversation around our core and aspirational values that will give direction to the new plan.
As part of this conversation, students in the Upper School were recently given the opportunity to provide their feedback on a list of core and aspirational values. They were also given the opportunity to name additional values represented at MPA that were not on the list provided. Imagine my reaction when the overwhelming value Upper School students offered was "kindness." In a world that often feels anything but kind, I am proud that students affirmed kindness as a core value. While respect is part of our mission statement, kindness is the manifestation of respect, an expression of how students consciously choose to act. I couldn't have been prouder.
We are fortunate to have a warm, kind, welcoming, and inclusive community, characterized by kindness. It represents a deliberate outcome set forth in our current plan that prioritized the creation and implementation of character education and wellness programs across each division. It serves as just one of many examples of how Momentum 2020 has guided the ongoing, continuous school improvement over the past five years. It is customary at this time of year that I provide an update on our strategic plan and how the school is living out its mission. As you will see in this infographic, we have accomplished a great deal. While it is impossible to capture all the progress that has been made in the last year, I would like to highlight a few notable accomplishments under each of the three strategic priorities.
Priority One: Empower students to live, learn, and thrive in the 21st century globalized society.
Over the past five years, each academic department has undergone a comprehensive year-long curriculum review process. The process was developed to maintain best practices in innovative, rigorous, and sequenced curriculum. It also recognizes the autonomy, expertise, and professionalism of MPA educators while also acknowledging the value of outside research and the importance of a cohesive departmental, cross-divisional program. The result has been a new sequencing of science courses in the Upper School that places physics in ninth grade and allows for more science electives in senior year, the addition of a Makerspace class, and a Computer Science Coding class. In Middle School, the curriculum review process led to the integration of design into the science curriculum, furthering our commitment to hands-on experiential learning that integrates 21st century skills with deep thinking about real world problems.
Empowering students for success in college and career depends in part on connecting with and learning from those already in the field. A new Alumni Mentorship Program was created last year and enhanced this year, connecting members of our senior class with MPA alumni. Mentees and mentors were matched based on interests, hobbies, career goals, college choice, etc. Over the span of several months, students corresponded through email with their mentors on a series of topics, including how interests at MPA translated to both college and career choices, goal setting, conflict resolution, overcoming failure, and how to present oneself professionally. The program culminated in a face-to-face gathering in early January.
Priority Two: Inspire and Affirm Our Exceptional Faculty and Staff.
Our faculty and staff continue to be our greatest asset. The strong student-teacher relationships are at the heart of our mission and are what makes MPA such a unique school. Throughout the last five years, MPA has made significant investments in teacher compensation, education, and development, providing time and resources necessary to fuel innovation and passion. Professional development opportunities this year have been focused on student mental health, serving students with learning challenges, and deepening our commitment to equity and inclusion.
We have also taken time to examine our HR processes to prioritize hiring a more diverse faculty and staff that reflects the diversity of our student body. We have scrutinized our hiring process from beginning to end to uncover both implicit and explicit bias that may prevent diverse candidates from seeking employment at MPA. While the work is ongoing, we are better positioned to attract, retain, and recruit exceptional teachers and staff than ever before.
Priority Three: Enhance Institutional Capacity to Ensure MPA's Future.
The successful capital campaign, Together, We Dream, has enhanced our institutional capacity in a meaningful way. It has been an incredibly rewarding year as the entire community has enjoyed the opening of the Family Commons and the Martin Lenz Harrison Library. Together, We Dream: The Campaign For MPA was an overwhelming success, illustrating the commitment and connection of parents, alumni, grandparents, and parents of alumni to our school as we strive to meet the new and emerging needs of students.
The culture of philanthropy at MPA is strong. Philanthropic giving has reached record levels and is providing much-needed funds to enhance the educational program. For instance, the percent of current parent giving now exceeds 65%year to date, already exceeding the percentage for the entire 2018-2019 school year. In addition, the number of new donors has increased by 15% so far this year with several months left in the fiscal year.
Growing our endowment is crucial to ensuring MPA's future. Through Together, We Dream the endowment grew by $500,000. In the many conversations with families during the campaign, we learned of planned gifts we were not aware of. As our connection to our alumni strengthens and affinity grows, we will continue to promote planned giving in order to truly ensure the school's future.
As Momentum 2020 draws to a close, I hope you share in the sense of accomplishment that I feel. Both qualitative and quantitative evidence illustrates the progress we have made. I am extremely grateful for the investment so many individuals have made in time, talent, and resources so that our beloved school can continue to meet the current and emerging needs of our students. The can-do spirit of the MPA community, inspired to dream big and do right, and guided by Momentum 2020, has positioned our school and prepared our students well for what lies ahead.