March 26, 2021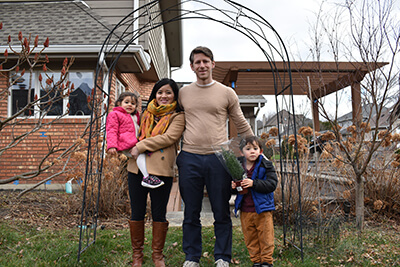 What are you currently doing, professionally and/or personally?
I am currently an assistant professor of Infectious Diseases at Loyola University Medical Center in the Chicago area. The COVID-19 pandemic has been central to our efforts over this past year, and we have been working hard to stay abreast of the latest treatment options and infection control measures. I have a background in law and my academic interest is primarily in that of health care policy. My hobbies these days are cycling, running, learning Italian, and cooking.
How did you get there? Where did you attend college? Are there some career moves or other key experiences or relationships that have inspired you?
I attending college at the University of St. Thomas, and enrolled in the MD/JD program at Southern Illinois University after college. I've had the chance along the way to learn about many fascinating aspects of law, health policy, and bioethics. During training, I completed an internship at the National Institutes of Health in health policy which inspired me and has continued to define my career interests in this area.
How did your MPA experience prepare you for your life today? How did MPA inspire you to dream big and do right?
The biggest inspiration that I take from MPA is that of lifelong learning. I continue that pursuit of learning every day, not only in my profession, but in my interests outside of medicine. My time on the Track and Field and Cross Country teams was also very memorable. Coach Bev Docherty taught me a strong work ethic, and I keep in touch with members of the team to this day.
What's next? Do you have any aspirations–personal or professional–that you'd like to share?
I see a great deal of opportunity for improvement in our health care system, and my future aspirations are centered on health policy innovations which will lead to improvement in the health care system as a whole.