April 29, 2021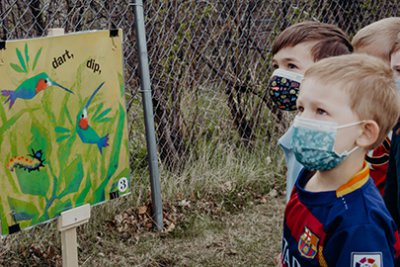 by Dr. Bill Hudson, Head of School
Outside my office is a skinny rubber tree with branches extending in all directions. A scarcity of leaves is clustered on the end of each branch, like hands and fingers on outstretched arms waving at passersby. I have to admit that it looks quite peculiar and often is subject to ridicule, like Charlie Brown's Christmas tree. But it means a great deal to me and I love to share its story.
The tree was a gift from long-serving Upper School Math teacher Theresa Reardon Offerman upon her retirement. Theresa told me she bought the tree during her first year of teaching. It was the winter of 1977-78 and she happened upon it at the old Sears on Lake Street in Minneapolis. "It looked lonely sitting all by itself in the aisle," she said. "It was sickly, partially frozen from sitting outside too long, and on sale. I bought it and nursed it back to life." Every time I walk by the tree I think of Theresa, her dedication to MPA, her love of math, and the many seeds she planted over her teaching career, touching the hearts and minds of so many.
This week and last, MPA has been observing our annual celebration of reading, the MPA Book Festival. This year's theme is centered on and coincides with Earth Day, which was celebrated on April 22. Students in all divisions were each given a beautiful bookmark and a packet of seeds with the quote, "All the flowers of all the tomorrows are in the seeds of today." A hallmark MPA tradition, the Book Festival began 21 years ago, in 2000 by the Parents Association under the leadership of Elaine Johnson and Karla Myers. Like the library at the center of our school, reading is at the heart of a MPA education.
There are many special activities occurring this week. For instance, in Lower School, our librarians read the book, "We are Water Protectors" by Carole Lindstrom and the students all took the Water Protectors Pledge. This pledge went home with students so families could work together to be stewards of the Earth. Students are currently working on an illustration which will be hung up in Lower School promoting taking care of our Earth. Upper School Student Council organized a casual Earth Day activity in the Benz Courtyard for their peers. It involved painting plant pots filled with succulent plants, and also painting rocks with messages of peace and love for our planet. Council members set up tables in the courtyard and played music.
The annual Book Festival provides our MPA community with opportunities to participate in reading activities, purchase great books, and support our local booksellers. The MPA Library will use the donations from the booksellers to purchase books for teachers, for the classrooms, and the Library. Books are available for purchase from two local independent booksellers, Usborne Books and Valley Bookseller. Since our event is virtual, you have the ability to purchase any books available through their distributors.
I give credit to co-chairs and Lower School Parents, Michelle Mick and DeeDee Clendenning, for choosing such a brilliant theme—reading and gardening have much in common. For me, libraries are like wonderous gardens, filled with countless varieties of flowers. In this garden, books are the flowers and seeds are the ideas that over time, grow and give life. From childhood, books have fed my mind, sparked my curiosity, and nourished my soul. Reading has planted seeds that have taken root and grown, forming me into the person I am.
In an age of instant gratification, live streaming entertainment, and overnight delivery, gardening, like reading, takes time and patience, and teaches us to slow down. Seeds need to be cared for and nurtured, like the experiences, perspectives, ideas, and knowledge that stem from reading. If properly cultivated, its blooms are transformational.
Please join me in celebrating Book Festival 2021. May the seeds of knowledge we plant today bloom innovators, scientists, doctors, artists, peacemakers, and leaders we desperately need.
Place your orders through Valley Bookseller > please note: in order to make sure your order benefits the MPA library and classrooms, be sure to include "MPA" or "MPA Book Festival" in the comments section when ordering and/or choose "Free delivery to MPA" as your delivery method. Thank you!