May 11, 2021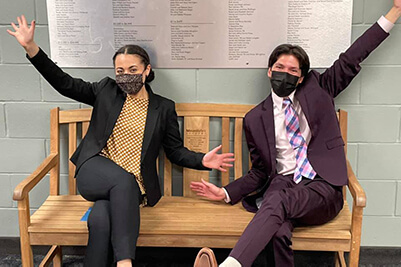 Mounds Park Academy competed at the NIETOC National Tournament this past weekend. The team finished ranked 14th in the nation!
MPA had 11 entries and nine students qualify, both school records. Four entries (five students) broke into outrounds, another school record. Seniors Lily Gasterland-Gustafsson and Garrett Hollihan finished in the Octafinal in Duo, senior Anna Gaudio finished in the Octafinal in Drama, senior Ryan Ghose finished in the Semifinal (11th overall) in Humorous, and senior Salmah Elmasry finished in the Final, placing fourth in Ex Speaking.
Salmah won the final round as the first MPA student to ever win a National Final Round. Because the tournament is cumulative, all of her scores combined placed her fourth overall.
Congratulations to the entire team!