September 15, 2022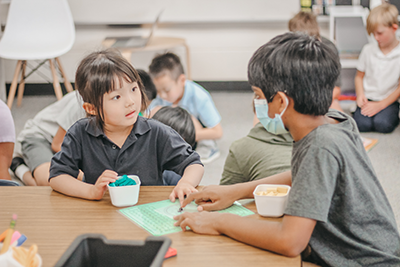 from Bill Hudson, head of school
"We're blending the entire history of the American modern property market with climate modeling," says Parag Khanna, founder and CEO of Climate Alpha. Data on the impact of climate change on specific regions or locales is readily available, but Khanna went deeper, asking "how are cities adapting and investing in infrastructure to protect against climate impacts? Where are jobs growing? Where are people moving now, despite extreme heat or wildfires or sea level rise?" Her innovative app uses machine learning and proprietary algorithms to look at hundreds of variables so that investors, individuals, companies, and government can make informed decisions to plan for the future.
Climate Alpha is an excellent example of the shift from the Information Age to what author and futurist Daniel Pink calls the Conceptual Age. While the Information Age was all about big data, the Conceptual Age is concerned with how to use information in new and novel ways that make the world a better place. I think a lot about what this shift means for our students. What it meant to live, learn, and thrive 25 years ago is much different than what it means today and even more different than what it will mean 25 years from now.
The first priority of 2024ward, our new strategic plan, challenges us to "Empower students to live, learn, and thrive in our increasingly complex and globalized society." We will do this by creating customized pathways of learning for students through curricular innovation and leveraging advances in educational technology." In addition to maximizing the use and integration of technology, MPA has been on a multi-year journey to build upon our school's strengths in hands-on, experiential, project-based learning.
A crucial step in realizing this priority is to develop a Portrait of a Graduate that is unique to MPA. A Portrait of a Graduate is our school's vision for the knowledge, 21st-century skills, character traits, and/or social-emotional competencies our students need to live, learn, and thrive in our increasingly complex and globalized society. It represents a collective vision and articulates our community's aspirations for all students. A Portrait of a Graduate serves to clearly rearticulate the full range of outcomes we want for our graduates and work backward from there to build a school model in which each element maps directly to the identified outcomes.
I invite you to take part in this exciting initiative. There will be several gatherings in October and November for parents and guardians to learn more about the project and to share their perspectives. Faculty and staff have already begun this work and a committee has been formed with the goal of engaging the MPA community in an inclusive process to develop our MPA portrait.
Through the development and use of a Portrait of a Graduate, our school will benefit from an expanded definition of student success. Such a definition will ensure that our students are fully equipped with the core academic knowledge and skills, as well as a range of other competencies that they need to be successful to live, learn, and thrive in today's increasingly complex world.