by Dr. Bill Hudson, Head of School
Editor's note: We will be adding updates here as they are available! All photos courtesy of Jarvis Zhang, MPA Class of 2017.
Day One: January 19, 2017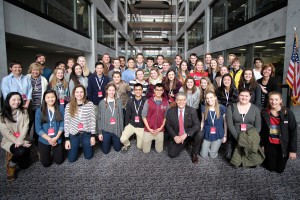 The Upper School trip to the presidential inauguration began at 4:15 AM on Thursday morning as 43 students arrived at Minneapolis-St. Paul Airport. There was great excitement and energy despite the early hour. KARE 11 was there to greet us: http://kare11.tv/2jdPXpF.
We arrived safely and were quickly on our way for a brief meeting with Minnesota United States Senator Al Franken. We were honored that Senator Franken left the confirmation hearing of Governor Rick Perry's nomination as Secretary of Energy to meet with us. Senator Franken couldn't have been more gracious greeting students, posing for a picture, and answering some tough questions put forward by MPA students.
There was certainly a buzz in the District, felt by students as we traversed the National Mall for a visit to the United States Holocaust Memorial Museum. After a brief boxed lunch on the grounds of the Museum in the warm, D.C., students spent several hours moving through the powerful and sobering depiction of the Holocaust. Our visit ended with a chance to debrief the experience and ask questions with Warren Marcus, an official of the Museum and friend and former colleague of Upper School Director Mark Segal. Once again, students asked thoughtful questions as they wrestled with making sense of the incomprehensible.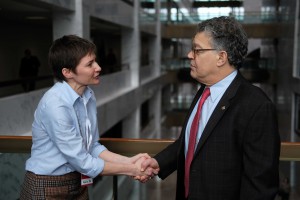 Our day ended with a bang, literally, in Foggy Bottom. As we exited our restaurant, we were treated with a fireworks display just blocks away that marked the ended of the special concert for President-elect Trump on the steps of the Lincoln Memorial.
Tired, but ebullient students and adults found their way to our hotel for another short night before making our way to the steps of the United States Capital to witness the inauguration of Donald J. Trump as the 45th President of the Unites States.
Day Two: January 20, 2017
After a short night, students and chaperones answered an early wake-up call at 4:15 AM for a hearty breakfast before embarking on a busy day. We were honored to see MPA and one of our chaperones, Jennifer Lindrud, in the New York Times: http://nyti.ms/2j1joh0.
Our bus parked near Washington Nationals Baseball Stadium and walked three miles only to wait nearly four hours to enter the National Mall to view the inauguration. Inching forward slower than a snail's pace, we were unaware that protesters were blocking several entrances to the Mall. We were never in any danger, but there were reminders all around us that not everyone arrived with the intent of celebrating.
We finally entered near the Washington Memorial and viewed the inauguration from a distance, but with a beautiful vista of the Capitol and the White House. A jumbo-tron brought the events within view. The mood on the Mall was generally joyful but often solemn. There were both cheers and tears. As the weather wavered between rain and brief bursts of sun, power peacefully transferred from one president to another.
After the conclusion of the inaugural address, we toured the World War II, Korean, and Vietnam War Memorials. I thought it was particularly meaningful, paying reverence to those who gave their lives for freedom and democracy. As we left the District, we made a brief visit to the 9/11 Pentagon Memorial where 184 individuals lost their lives on September 11, 2001.
Our day ended with dinner in Alexandria, Virginia where were joined by six alumni who live and work in the area. We all enjoyed hearing about their work and their appreciation for how MPA prepared them for college and career.
The students were fantastic today. They walked more than 10 miles today and stood patiently, and respectfully, in line for many hours. They are a wonderful group of young people and I was glad to witness history with them. It was a good day—one we will certainly remember.