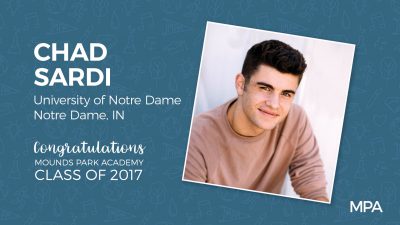 In what grade did you come to MPA? 2nd
How did you come to choose the college that you did?
The University of Notre Dame had been my dream school since before I can remember. My grandfather attended the university and, partially as a result, is living out a long and fulfilled life. His son, my father, was the one who really got me into Notre Dame football and the spirit of the university as a child. After my freshman year at MPA, I made the decision to attend a two-week summer program for architecture at the University of Notre Dame and absolutely loved it. Ever since then, I have been anticipating my return.
What are you most excited about as you embark on your college experience?
What I most look forward to in the next few years of my life is the adventure. I have always anticipated branching out after graduation, which made the college hunt all the more exciting for me. One thing that has always interested me is the study of architecture. So personally, this makes studying architecture at the University of Notre Dame a thrilling opportunity. This in combination with Notre Dame football and basketball games have me very excited to say the least. Continue reading →