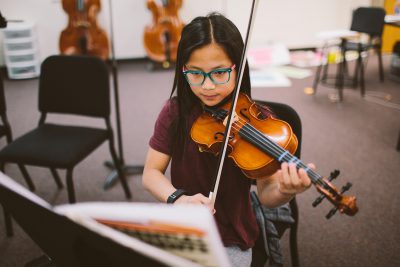 On January 11 at MPA Talks, MPA parent and Director and Professor of the University of Minnesota School of Music, Dr. Michael Kim, presented "Creativity and the Fine and Liberal Arts in the 21st Century" to the Mounds Park Academy community. See below for a Q&A with him, based on the same topic.
In schools today, there is a strong emphasis on STEM education. Why is it important to focus on STEAM instead?
Today in our schools and in our public discourse, we are increasingly focused on the importance of students developing skills in and experience with science, technology, engineering, and mathematics or STEM. Indeed, technology is now a major part of our society, and technological advancements have progressed rapidly.
Given the pace and pervasiveness of technology-driven changes, however, some of the most important skills for students to acquire are flexibility and adaptability. Our children will need to adjust to ever-changing times and possess qualities and skills that are the focus of a strong liberal arts education. So we really need to focus on STEAM (science, technology, engineering, arts, mathematics), not just STEM, as is the case at MPA. My family and I love the focus on creativity at MPA and that the school engages students in the visual and performing arts at every academic level. As an educator myself, I believe it's not enough to just foster an appreciation for the arts. But rather to guide students in developing their own artistic skills and to provide opportunities for them to explore, create, and express their ideas through art, performance, and music.
Why is a liberal arts education so important in our technology-driven world?
We live in an age where computers and technology can complete critical functions better, faster, and cheaper in all areas of life. We even have robotic nurses that can help diagnose and treat patients. So how do we stay relevant in a world where even business magnate, engineer, and inventor Elon Musk calls artificial intelligence our biggest existential threat? I believe that is by focusing on creativity, empathy, and the qualities that define our humanity; qualities, skills, and insights developed through the liberal arts and integrating the arts wherever possible in a cross-disciplinary way, as they do at MPA.