Spring Show
A Live, Socially-Distanced, & Outdoor Production!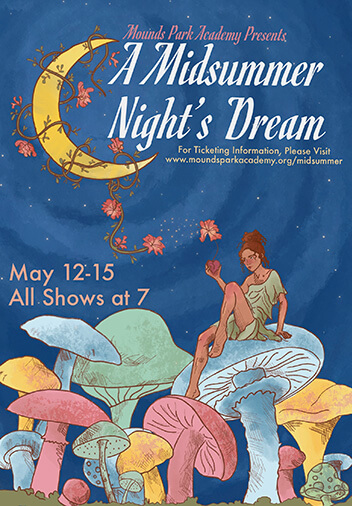 A Midsummer Night's Dream
by William Shakespeare 
Four lovers lost in the woods and a group of rude mechanicals who have set out to put on a play become entangled in a dream world. The Fairy Kingdom is at odds, spells are cast, and the devilish sprite Puck weaves their mischief amongst the mortals, but is all fair in love and war? This fast-paced romp promises to be an unforgettable midsummer adventure for the whole family. (Summary from Shakespeare.org)
***New, Fun, & Exciting! This year, our Band & Orchestra Departments have created music recordings, which will be featured throughout the show!!*** 
COVID AUDIENCE GUIDELINES: 
Ticket Pods are reserved for members of the same household ONLY 

Families and friends are not allowed to combine into a shared pod. 

For tracing purposes, we require each attendee's name to be recorded at the time of purchase. If you have changes or adjustments, please email Ann Frances Gregg at afgregg@moundsparkacademy.org. 
PLEASE NOTE: Masks are required. MPA reminds all attendees they may not attend if exhibiting one or more of the following symptoms: fever, new onset and/or worsening cough, difficulty breathing, or new loss of taste or smell, sore throat, nausea, vomiting, diarrhea, chills, muscle pain, excessive fatigue, new onset of severe headache, and new onset of nasal congestion or runny nose. In addition, if you have a known COVID exposure in the 14 days prior to the show, you may not attend. 
Within 48 hours of your performance attendance, if you develop symptoms, go on to test positive, or are notified of a prior exposure you previously didn't know about, please contact covid@moundsparkacademy.org immediately.  
COVID TICKETING GUIDELINES: 
Large Ticket Pods - $35 - Available for up to 6 household members 

Please select 1 Large Pod Purchaser ticket 
Add on up to 5 *Additional Pod Attendee tickets ($0) to indicate actual attendance


Small Ticket Pods - $25 - Available for up to 4 household members 

Please select 1 Small Pod Purchaser ticket 
Add on up to 3 *Additional Pod Attendee tickets ($0) to indicate actual attendance


Singleton Tickets - $7 

If purchasing more than 1 Singleton at a time, please share the name of each ticket holder