About MPA's Program Coordinator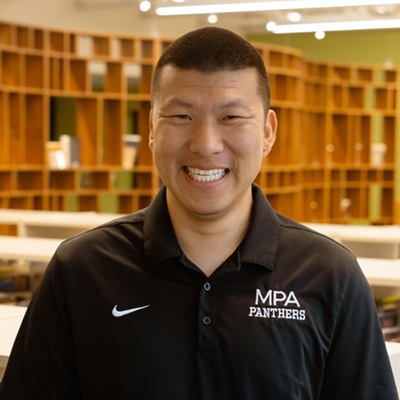 MPA inspires students by teaching everyone the importance of listening, being respectful, and contributing to the world as a global citizen.
Cory Becker-Kim is the international student program coordinator and Advanced Language & Culture teacher at MPA. He is an outstanding part of our warm, inclusive, and kind community. "A lot of things drew me to MPA, but first and foremost I think the strong community and dedication of the faculty and staff, as well as the families and students at MPA appealed to me and made me feel welcome from the moment I engaged with MPA about the international student program coordinator position. But also, the inclusive vibes I have observed and experienced resonate with my personality and values."
Before MPA, Mr. Becker-Kim was on staff at the College of St. Benedict/St. John's University where he was the assistant director of admissions. In addition to general work in admissions, he worked with international student recruitment and retention. Prior to that, he taught English in China and then South Korea for almost five years. Combined, each of these roles have provided him with the global experience and diverse perspectives that is so valuable to our international students, and our community as a whole.
Please feel welcome to reach out to Mr. Becker-Kim at international@moundsparkacademy.org or 651-748-5541.