Share your love of MPA and receive a tuition credit!
MPA's referral program is a simple way of saying a heartfelt "thank you" to current families who recommend the school to friends, family members, neighbors, or colleagues. It is a small token of our appreciation for sharing your experiences, perspectives, and love for Mounds Park Academy.
When a new student completes the MPA application process based on a recommendation from a current family, the current family will receive a $250 credit toward the following year's tuition. If the new student is accepted and the family enrolls, an additional $250 credit will be applied. The more students who are referred, the more credits current families will receive.
Please contact the Office of Admission at admission@moundsparkacademy.org or 651-748-5577 if you have any questions. This is the most important way that new families come to our school—thank you for sharing MPA!

Step 1
Share your love for MPA with friends, neighbors, colleagues, etc. through conversations, email, or the invitation below.

Step 2
When filling out the inquiry form, the prospective family should identify you as how they learned about MPA.

Step 3
When the new family completes the application process and/or enrolls, the current family receives a tuition credit.
Send An Invitation To Learn More To A Friend
When you submit the fields below, an email will be sent to the prospective family stating that you recommend Mounds Park Academy. You will receive a copy as well. To indicate their interest in MPA, the family will be asked to submit MPA's inquiry form. We will not reach out to the family or use their email address unless they actively express their interest in learning more. Please consider following up with a personal conversation, phone call, or email as well.
MPA Referral Program in Action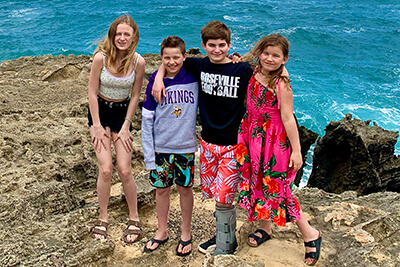 For the Roseth family—parents Aaron and Anna, sixth grader Ari, fifth grader Andrew, and third grader Annika—who started in the fall of 2020, discovering MPA began with a bumper sticker on a teammate's minivan at football practice. That teammate was Dylan Rengstorf, whose sister Emma, attended MPA. Ari and Dylan became fast friends and so did their families.
Shortly before meeting the Roseth family, Jason and Joana Rengstorf had chosen MPA after looking for a school where Emma could thrive in an inclusive place that provided a safe environment for her to excel as a student. When they found MPA, they knew it was the right fit.