Follow Our Graduates
Since Mounds Park Academy opened its doors in 1982, it has graduated 1,710 students. They are dreamers. They are doers. They are the kind of people who are making our world a better place. Throughout their time at MPA, they were immersed in a college-going culture that developed their unique set of interests, priorities, and aspirations. They were challenged and supported in the work of finding the best college fit through rigorous courses, a robust and intentional college counseling program, and supportive faculty and staff who helped guide them (and their families) each step of the way.
The 60 members of the Class of 2023 received offers of admission from 110 unique four-year colleges and universities in 33 states, Washington, D.C., Canada and Scotland. They chose to attend 39 different schools in 20 states, Washington, D.C. and Scotland.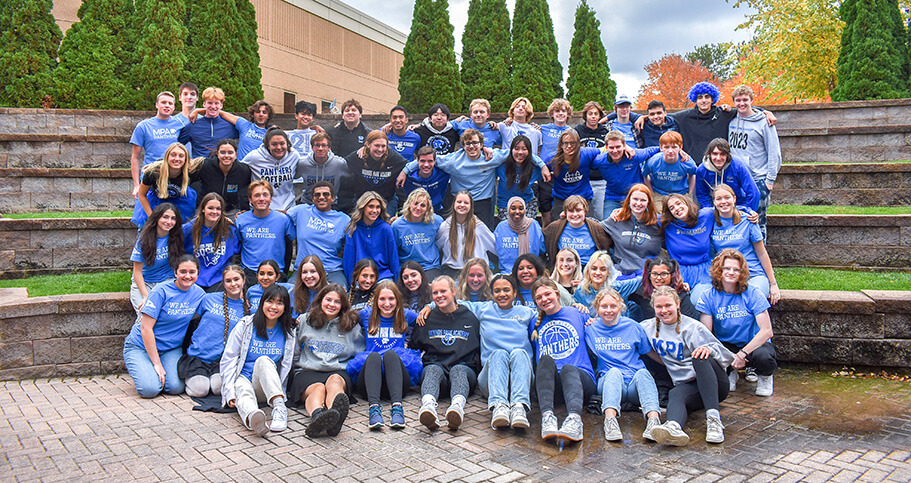 Explore the MPA college admission and matriculation list below dating back to 2019 and start to wonder: Where will your child find their best fit?
2019–23 COLLEGE ADMISSION AND MATRICULATION
Bold indicates matriculation to that institution. An asterisk (*) indicates matriculation of more than one student.
Agnes Scott College*
Alfred University
Allegheny College
American University*
Amherst College
Arizona State University – Tempe*
University of Arizona
Art Center College of Design
Augsburg University*
Babson College*
Bard College*
Barnard College
Barrett Honors College, Arizona State University*
Bates College Baylor University
Bennington College
Bentley University
Bethel University (MN)
Boston College
Boston University
Bowdoin College
Bradley University
Brandeis University
University of British Columbia
Brooklyn College, CUNY
Brown University
Bucknell University
Butler University
California Lutheran University
California Polytechnic University – San Luis Obispo*
University of California – Berkeley
University of California – Davis
University of California – Irvine
University of California – Los Angeles
University of California – Riverside
University of California – San Diego*
University of California – Santa Cruz
Carleton College*
Carleton University (Canada)
Carnegie Mellon University
Carroll College
Case Western Reserve University*
Century College
Chaminade University of Honolulu
Champlain College
Chapman University
The City University of New York, CUNY
Claremont McKenna College
Clarkson University
The College of Charleston
Coe College
Colby College*
Colgate University*
University of Colorado Boulder
Colorado College*
Colorado School of Mines
Colorado State University – Fort Collins
Columbia College Chicago
Columbia University*
Connecticut College
University of Connecticut
Cornell College
Cornell University
Cottey College
Creighton University
Dartmouth College
Davidson College
University of Dayton
University of Delaware
Denison University
University of Denver*
DePaul University*
Des Moines Area Community College
Dickinson College
Drake University*
Drexel University
Duke University
Dunwoody College of Technology
Durham University
Earlham College
Eckerd College
The University of Edinburgh
Elon University
Emerson College
Emory University*
Florida State University
Fordham University
Franklin and Marshall College
The George Washington University*
Georgetown University*
Georgia Institute of Technology
Gettysburg College
Gonzaga University
Goucher College
Grinnell College*
Gustavus Adolphus College
Hamilton College
Hamline University*
University of Hartford
Harvard University
Harvey Mudd College
Haverford College
University of Hawaiʻi at Mānoa
Hawaii Pacific University

Hiram College
Hofstra University
College of the Holy Cross
University of Houston
Howard University
University of Illinois at Urbana-Champaign
Illinois Institute of Technology
Illinois Wesleyan University
Indiana University – Bloomington
Iowa State University
University of Iowa
Jacksonville University
Johns Hopkins University
Kalamazoo College
Kansas State University
University of Kansas
Kenyon College
Knox College
Lafayette College
Lawrence University
University of London (England)
Lewis & Clark College
Loras College
Loyola Marymount University
Loyola University Chicago*
Loyola University Maryland
Luther College
Macalester College*
University of Maine
Marist College
Marquette University
Maryland Institute College of Art
University of Maryland – College Park
Massachusetts College of Art and Design
University of Massachusetts – Amherst
McDaniel College
McGill University (Canada)
Miami University (Ohio)
University of Miami
Michigan State University
Michigan Technological University*
University of Michigan – Ann Arbor
Middlebury College
Milwaukee School of Engineering
Minneapolis College
Minneapolis College of Art and Design
University of Minnesota – Crookston
University of Minnesota – Duluth*
University of Minnesota – Morris
University of Minnesota – Rochester
University of Minnesota – Twin Cities*
University of Missouri – Columbia
Montana State University
The University of Montana
Mount Allison University (Canada)
Muhlenberg College
Naropa University
University of Nebraska – Lincoln
University of New Hampshire
The New School
New York University
University of North Dakota
Northeastern University*
Northern Michigan University
Northland College
Northwestern University*
University of Northwestern – St. Paul
University of Notre Dame
Nova Southeastern University
Oberlin College*
The Oberlin Conservatory of Music Occidental College
The Ohio State University – Main Campus
Ohio Wesleyan University
University of Oregon*
Oregon State University
Pace University
Pacific Lutheran University
Pennsylvania State University
University of Pennsylvania
Pepperdine University
University of Pittsburgh
Pitzer College*
Pomona College*
Portland State University
University of Portland
Princeton University
Providence College
University of Puget Sound*
Purdue University*
University of Redlands
Reed College
Rensselaer Polytechnic Institute
Rhode Island School of Design
University of Rhode Island
Rhodes College
Rice University
University of Richmond
Ripon College
Rochester Institute of Technology University of Rochester
Roger Williams University

Rutgers University – New Brunswick
University of St. Andrews
College of Saint Benedict
St. Catherine University*
Saint Edward's University
Saint John's University
St. Lawrence University
Saint Louis University
Saint Mary's University of Minnesota
Saint Michael's College
Saint Norbert College
St. Olaf College*
The College of Saint Scholastica
University of St. Thomas (MN)*
Salem State University
Salve Regina University
San Diego State University
University of San Diego*
University of San Francisco
San Jose State University
Santa Clara University
Savannah College of Art & Design
School of the Art Institute of Chicago
School of Visual Arts
Scripps College*
Seattle Pacific University
Seattle University
Shenandoah University
Sierra Nevada University
Simmons University
Simpson College
Skidmore College
Smith College*
University of South Carolina – Columbia
University of Southern California*
Southern Methodist University
Southwestern University
Stanford University
Stonehill College
Stony Brook University
SUNY College of Environmental Science and Forestry
Syracuse University
The University of Tampa
Temple University
Texas A & M University – College Station
Texas Christian University
The University of Texas at Austin
Trinity University
Tulane University of Louisiana*
Union College
United States Air Force Academy
United States Military Academy
University of Utah
Vanderbilt University*
Vassar College
Villanova University
University of Virginia
University of Vermont
Virginia Polytechnic Institute
Warren Wilson College
Wartburg College
Washington & Jefferson College
Washington College
Washington State University
Washington University in St. Louis*
University of Washington – Seattle
University of Washington – Bothell
University of Washington – Tacoma
Wayne State University
Wellesley College*
Wesleyan University
West Virginia University
Western Washington University
Whitman College*
Whittier College
Willamette University*
College of William & Mary
Williams College
Winona State University
University of Wisconsin – Eau Claire*
University of Wisconsin – Green Bay
University of Wisconsin – Madison*
University of Wisconsin – Milwaukee
University of Wisconsin – River Falls
University of Wisconsin – Stout*
The College of Wooster
Worcester Polytechnic Institute
Xavier University
Yale University*