FOOD ALLERGIES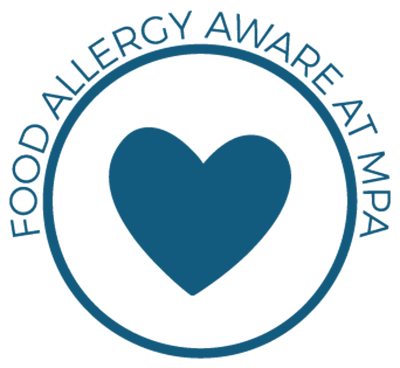 Mounds Park Academy is dedicated to fostering the health, nutrition, and well-being of students with food allergies by providing education and a supportive school community. For anyone living with chronic health conditions requiring special dietary needs such as food allergies, the teaching and fostering of self-management skills is crucial to optimizing health and social normalcy.
Since schools cannot guarantee a food safe environment, upon request MPA will take measures to minimize the risk of an exposure, as well as educate employees and volunteers to respond to life threatening reactions. Our goal is to minimize the risk of a food allergy emergency, knowing our inability to completely eliminate the risk.
Therefore, it is the approach of Mounds Park Academy to provide a "food allergy aware" environment for a student(s) with a known food allergy. Structural supports and protocols, which establish best practices for children with food allergies, will be followed. This includes instruction and education to improve personal food allergy management skills in the confines of a "food allergy aware" school. In addition, the school will develop individual health care plans as warranted.
For much more detail, please visit the Current Families section of our website.
Goals
Ensure the daily management of food allergies for individual children.

Develop and utilize specific procedures to identify children with food allergies
Develop a plan for managing and reducing risks of food allergic reactions in children through a Food Allergy Action Plan /Individual Health Care Plan
Create a Lower School Allergy Aware Action Team
Assist students to manage their own food allergies

Be prepared for food allergy emergencies.

Set up communications systems that are easy to use in emergencies
Make sure staff are able to access to EpiPens quickly and easily
Make sure that the EpiPen is used whe needed and that someone immediately contacts emergency medical services
Identify the role of each staff member in a food allergy emergency
Prepare for food allergy reactions in children without prior history of food allergies
Include food allergy protocol in the school's emergency preparedness plan
Hold periodic drills for a food allergy emergency
Document the response to a food allergy emergency

Train employees on how to manage food allergies and respond to allergy reactions.

Provide general training on food allergies for all employees
Provide in-depth training for the Lower School employees
Provide specialized training for the Lower School Allergy Aware Action Team responsible for managing the health of children with food allergies on a daily basis

Educate all students and families about food allergies.

Teach all children about food allergies
Teach all parents and families about food allergies

Create and maintain an allergy aware and safe educational environment.

Create an environment that is as safe as possible from exposure to food allergies
Develop food-handling policies and procedures to prevent food allergens from unintentionally contacting other food
Make outside groups aware of food allergy policies and rules when they use school facilities
Promote a positive psychosocial climate that reduces bullying and social isolation and promotes acceptance and understanding of children with food allergies