FOOD ALLERGIES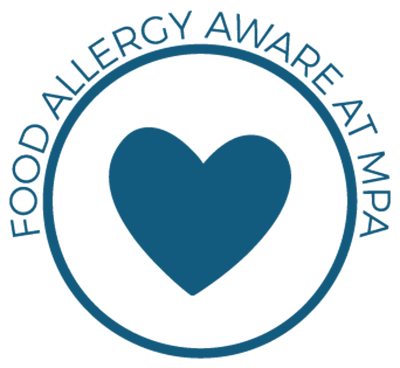 The number of children with food allergies continues to rise. This fact and the desire to best serve and protect our students with food allergies, prompted MPA to make a commitment to becoming an Allergy Aware School.
MPA has a series of school-wide guidelines and protocols in place (see below). The overarching principle we embrace is to minimize as many risks as possible while realizing that it is impossible to eliminate them all. We have followed the lead of both independent and public schools in the development of the guidelines as well as federal agencies and national advocacy organizations.
As a Food Allergy Aware School, Mounds Park Academy prohibits foods with peanut and tree nuts (walnuts, almonds, hazelnuts, pecans, cashews, pistachios, Brazil nuts, pine nuts, lychee, tamarind, and macadamias) listed as ingredients throughout the school and at all school events . If a food is "manufactured in a facility" or "processed on the same equipment" it will be allowed in Middle and Upper School. However, those food items are prohibited in Lower School. These are the two allergens most often linked to anaphylaxis, a life-threatening reaction that can include difficulty breathing, vomiting, and in extreme cases, death.
Please abide by the guidelines provided and read food labels carefully. In the MPA spirit of compassion, respect, and inclusiveness, thank you for your support.
Find more detailed information below and direct questions to foodallergies@moundsparkacademy.org. Members of the administrative team as well as the school nurse will receive your message and reply promptly. Visit the Health Services page for forms.