Director's Welcome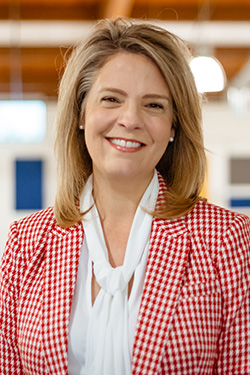 Welcome! The Middle School at Mounds Park Academy is a dynamic, welcoming, and stimulating place where students are appreciated for who they are while concurrently being challenged to take risks in a safe environment. The Middle School faculty understand that some of the most dramatic social, physical, emotional, and intellectual changes of a person's life take place during early adolescence and use research-based best practices to meet the developmental needs of all learners. We help students figure out who they are as they simultaneously seek independence and reassurance by pushing them to think critically and abstractly, collaborate with peers, and learn from mistakes. Lifelong skills, including resiliency, time management, curiosity, creativity, teamwork, ethics, empathy, and conflict resolution are interwoven throughout the curriculum, and annual assessments of these areas guide practice.
Academics in the Middle School are rigorous, and our comprehensive curriculum empowers students to discover and express their learning along many avenues. All Middle School students have their own school-issued MacBook Air laptop that empowers them to collaborate, explore, give and receive feedback, and create in unique ways. Teachers utilize interdisciplinary collaboration and programming to connect and reinforce skills, and continuously engage students through hands-on work. Students receive individualized support through a comprehensive advisory system, small class sizes, academic, social, and counseling services, and skills-building Seminar courses.
Finally, a hallmark feature of the MPA Middle School is the sense of family and community that permeates everything we do. Students want to be here; they love to learn, they seek to do well, and they celebrate one another's accomplishments. Students form lifelong friendships while doing service to the school and broader community, embarking on field trips, and participating in athletics, clubs, and activities. Further, students make connections with both Lower School and Upper School students throughout the year.
The Middle School faculty cares deeply about their students, serving as mentors, confidants, and advocates, and communicate regularly with parents so that they serve as active partners in their student's education.
I invite you to visit soon, to see all of this (and so much more) for yourself!
Dr. Jenn Milam
Middle School Director
email | 651-748-5565