Academic Rigor in the Lower School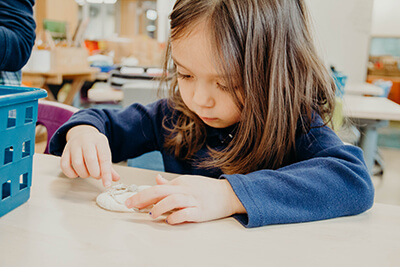 Rigor with purpose comes naturally in the Lower School at MPA. Activities are engaging, hands on, and challenging and teachers are constantly asking themselves, "What is the purpose of this activity?" and "What problem does this solve?" and "When do students get a chance to improve on what they learned and try again?" As a result, students are not told how to solve problems, but rather given the opportunity and tools to explore and discover an applicable solution.  Students apply deep content knowledge in real-world ways.
This is apparent to anyone who visits campus and sees the exceptionally high levels of student engagement. Because at MPA, rigor equates to participation and involvement. It means that advanced students, whom, at some schools are sitting in the back, bored, disengaged and detached, are instead challenged, attentive, and eager to be diving deep into their learning.
It should be noted that rigor emerges in many different ways in the Lower School. Some ways, like accelerated reading options and Singapore Math's high level problem sets, are more obvious and traditional. Yet some ways, like Design Thinking challenges in the Makerspace, are unique to MPA. But one thing is universal: academic rigor at MPA is never about adding more homework or busywork for talented students.
Here are four themes of academic rigor in the Lower School.
Differentiated Instruction
Differentiated instruction, or differentiation, is the foundation of rigor in the Lower School. Our small class sizes are particularly conducive to differentiation, allowing teachers to offer deeper learning opportunities for talented students who seek it. In our Lower School, teachers know every student extraordinarily well and individualize their teaching to each one. This allows for the potential of tremendous rigor that goes well beyond grade level readiness.
Differentiated instruction and individual attention means that students are encouraged to take risks in their day to day classroom activities. This occurs via open ended and student designed projects, adaptive assignments that become more or less challenging based on real time results, and individualized math, science, and reading comprehension questions. In everything they do, students have the opportunity to push themselves outside of their comfort zones and take academic risks in a safe and nurturing environment. That's academic rigor with purpose in action.
Differentiation at MPA means that not every student is reading at the same level, and with upwards of 25,000 books in our Martin Lenz Harrison Library, Lower School students are checking out new books every week. What's more, MPA teachers have endless options to employ as they build students' love of reading and provide ever more complex options for accelerated readers.
STEAM Focus
Promoting Design Thinking in the Makerspace, incorporating coding in technology class, and challenging students to find reliable information from reputable sources for research projects are all examples of rigor in STEAM in the Lower School. More specifically, rigor in STEAM takes place in the Makerspace when fourth graders use the scientific method to engineer a ship, starting with a clay model, and then designing and build their vessel using 3D printers to test its buoyancy with a cargo load of pennies. Rigor is third graders using design thinking to turn found objects from the materials bins in the Makerspace into upcycled props for their "Poetry and Pastries" project. And, rigor is first graders learning the science behind blood donations and then partnering with the Upper School Student Council to put on MPA's annual blood drive.
Specifically in math, MPA uses the highly rigorous Singapore Math curriculum, with its focus on Algebra, high level problem solving, and mental math. Singapore math blends deep content knowledge with mathematical writing skills to provide added challenge to top math students.
Across the STEAM field, whether in science, technology, engineering, the arts, or mathematics, Lower School teachers are using their disciplines to provide academic challenge to students seeking it.
Building School and Study Skills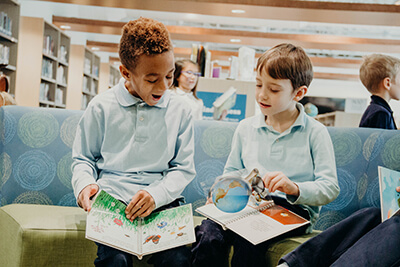 Preparing for the academic rigor that lies ahead in Middle and Upper School means that establishing strong school skills in Lower School students is critical. Succeeding in a highly rigorous environment starts with honing thorough organization skills, refining disciplined executive functioning skills, and practicing productive study strategies.
For example, older Lower Schoolers learn all about academic research. Students not only learn how to cite sources and analyze their quality, but also understand the basics of searching scholarly databases, all vital skills to prepare for Middle and Upper School.
Lower School learners go far beyond just dividing into differentiated reading groups, they learn the important skills of reflecting on their reading, sharing observations with others, searching for themes, and probing for deeper meanings in the text.
Building skills for school, of course, means learning and practicing collaboration as well. Working in small groups, listening, compromising, and sharing are all key skills to acquire as students look for additional academic challenge.
Students build the critical school skill of confident public speaking through Monday Morning Meeting presentations to the whole Lower School as well as through presentations, projects, and reports within the classroom at all grade levels. For example, fourth graders work on inventions and then make their pitch to Upper School students, while third graders present to one another on their "Parade of States" projects.
Lastly, Lower School students practice the critical life skill of examining and analyzing multiple perspectives. Starting from a young age, students engage with their peers on important world topics. Academic rigor means providing spaces to connect what they are learning with the relevant issues of the day, while developing complex cultural competencies and advocating for themselves and others.
Incorporating Specialists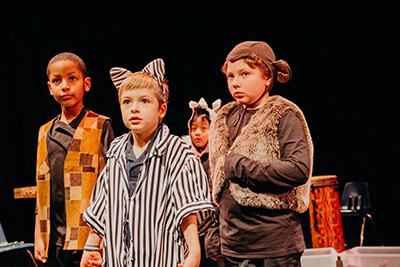 Tremendous focus is placed on rigor in mathematics, science and humanities, and rightly so, but in the Lower School at MPA, rigor is supplemented through whole child instruction that includes specialists in world language, theatre, music, physical education, visual arts, technology, library, and Makerspace.
MPA values students' interests outside of their homeroom classes. At the Lower School level, that might be learning the piano, playing soccer, or building with papier-mâché. The chance for MPA students to develop their own passions leads to independent thinking and joy, creating more capacity in their developing brains for the rigor of homeroom subjects.
Specialist classes are critical because they help students discover interests, find purpose and joy at school, and compliment their left brain thinking with their more creative right brain. A whole child curriculum suggests a unique style of rigor where the creativity of the arts reinforces and accelerates learning in mathematics, science, and reading.
Rigor in a visual arts classes means that students are not copying the instructor's example, but rather thinking deeply and creatively about their own work. In a class of 14 students, there are sure to be 14 unique and individual finished products. In music and theatre classes, rigor not only means overcoming pre-performance nerves and building an onstage presence, but also providing and receiving constructive criticism.
Lastly, rigor in Lower School means planting the seeds of bilingualism. Students learn both French and Spanish in kindergarten, and choose to specialize in one starting in first grade. Listening, speaking, writing, and reading, the four modalities of learning a language, add rigor to these classes, and diving deep into the Spanish speaking and Francophone cultures adds depth and curiosity.