MPA ESSENTIALS FOR VIRTUAL LEARNING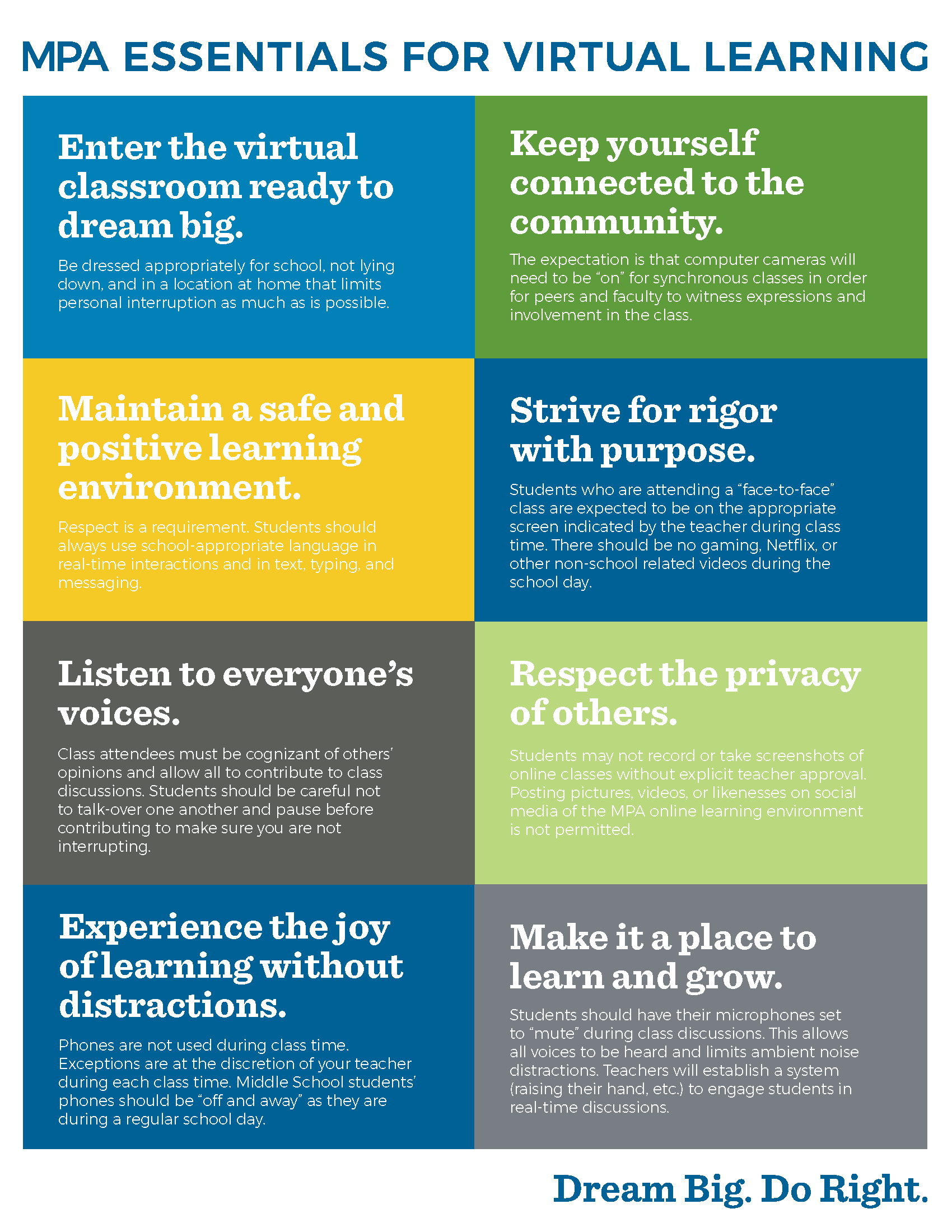 Enter the virtual classroom ready to dream big.
Be dressed appropriately for school, not lying down, and in a location at home that limits personal interruption as much as is possible.
Keep yourself connected to the community.
The expectation is that computer cameras will need to be "on" for synchronous classes in order for peers and faculty to witness expressions and involvement in the class.
Maintain a safe and positive learning environment.
Respect is a requirement. Students should always use school-appropriate language in real-time interactions and in text, typing, and messaging.
Strive for rigor with purpose.
Students who are attending a "face-to-face" class are expected to be on the appropriate screen indicated by the teacher during class time. There should be no gaming, Netflix, or other non-school related videos during the school day.
Listen to everyone's voices.
Class attendees must be cognizant of others' opinions and allow all to contribute to class discussions. Students should be careful not to talk-over one another and pause before contributing to make sure you are not interrupting.
Respect the privacy of others.
Students may not record or take screenshots of online classes without explicit teacher approval. Posting pictures, videos, or likenesses on social media of the MPA online learning environment is not permitted.
Experience the joy of learning without distractions.
Phones are not used during class time. Exceptions are at the discretion of your teacher during each class time. Middle School students' phones should be "off and away" as they are during a regular school day.
Make it a place to learn and grow.
Students should have their microphones set to "mute" during class discussions. This allows all voices to be heard and limits ambient noise distractions. Teachers will establish a system (raising their hand, etc.) to engage students in real-time discussions.