September 22, 2016
I am incredibly thrilled to announce that Mounds Park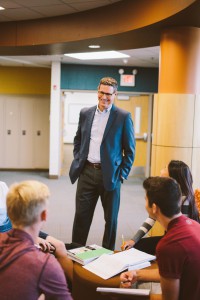 Academy has received an anonymous donation of $500,000 to build a makerspace. A makerspace is a hands-on, creative center for students to design, experiment, build, and invent as they deeply engage in art, science, engineering, and tinkering. This very generous gift is a key element in making our MPA vision of 21st century learning a reality! It's also a reminder that all philanthropic gifts, both big and small allow MPA to continue to grow, to transform, and above all, they truly make a difference in the lives of our students.
An advisory committee comprised of teachers, administrators, parents, and outside experts is currently being formed to work closely with the architects and builders. You are invited to be a part of the process by participating in a listening session on Thursday, October 6 from 3:30-5:00 PM in the Porter Conference Room. If you are unable to attend the session and you have ideas you'd like to share, please feel free to email them to me directly.
Creativity and innovation at the core of who we are at MPA. The founding vision of the school was to be a place of hands-on, experiential learning. We know that the best education occurs when critical thinking and deep content knowledge are used as the base for growing flexible and essential skills in problem solving, perseverance, and creativity. The makerspace follows and encapsulates a trajectory that includes the iLab, digital fabrication studio, and robotics lab and encourages our students to continue to dream big.
Construction is slated to begin in late spring and be completed by the start of the 2017-18 school year. Several locations for the makerspace are under consideration but a final decision has not yet been made. The makerspace will serve as a resource room used by different classes, across divisions, and in different contexts. Students of all ages, teachers, and in time, parents, will use the space for a variety of purposes.
A makerspace fits well within our school's commitment to character development. Students as "makers" take risks and iterate from "failures" to achieve success. Makerspaces contribute to a growth mindset that leads students to expend the energy to learn. Through it, character-building traits collectively known as grit, including creativity, curiosity, open-mindedness, persistence, social responsibility, and teamwork, among others are nurtured.
This gift is a shining example of how philanthropic support allows MPA to exceed expectations and above all else, stir the human spirit within our students. I am so very grateful.