January 17, 2020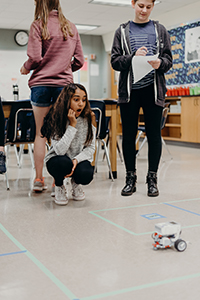 There aren't a lot of sure things in life. Financial markets are volatile; fashion is fickle, and this year's winning team can snooze next season. In an unpredictable world, one of the best bets you can make is investing in a rigorous and empowering college prep education that will pay life-long dividends for your child.
Research from the National Association of Independent Schools (NAIS) demonstrates that independent schools—including private institutions like Mounds Park Academy—prepare students for academic success, with graduating seniors at NAIS schools achieving substantially higher SAT results. Additionally, independent schools strengthen 21st century skills, with graduates spending more time asking questions in class, evaluating the quality or reliability of information, and looking for alternative solutions to a problem.
Independent schools also nurture in students the desire for a future that combines economic success with social responsibility and personal fulfillment. The data shows that graduates from NAIS schools were more likely than public school graduates to feel it is important or essential to be community leaders or become successful in their own businesses.
Excellence And MPA
Mounds Park Academy is one of the top two private schools in the seven-county Twin Cities metro area and one of the nation's top STEM schools. We have a proven track record for excellence that seamlessly merges academics, arts and athletics in a welcoming environment that provides personalized attention. MPA cultivates each child's strengths and fosters a love of learning, equipping students to make their mark individually and improve our global community. Mounds Park Academy families hail from 64 different zip codes throughout the greater Twin Cities and western Wisconsin, and reflect a diverse range of backgrounds and experiences. Read More