April 19, 2023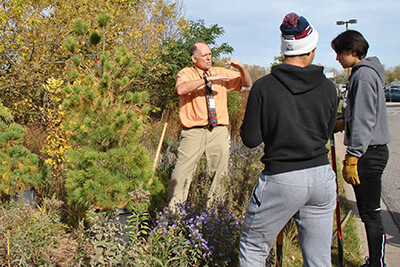 When and how did you first come to MPA?
August 1991. I had moved back to Minnesota in 1989, got married and taught for a year at St. Bernard's school in St. Paul. I wanted to make a change and interviewed at MPA and St. Thomas Academy. I was offered a job at both schools. I really liked the atmosphere at MPA, knew Chris Jensen, and felt that MPA was the best place for me.
What memories do you have of your first days at MPA?
The joyful return of the students at Back to School Night. Camille Wainwright doing interesting demos in chemistry. Chris Jensen keeping the biology classes moving. I remember feeling that I was in a "fast" crowd. Here, at MPA, all the faculty were very talented and hard-working. The goal is creative, student-involved education and everyone, everywhere was doing this. The school was alive with positive action. I felt I needed to "raise my game" if I was going to be an effective part of this hard-charging group. There was such a collegial feeling between all the teachers. The male teachers had to wear a shirt and tie. This is where I started my biology tie collection. Mostly I was quiet and I listened. There was a lot to learn.
What's the best thing about being a teacher at MPA?
I have the freedom to do what is best for my students. I can explore new ideas with colleagues and come up with interesting things for myself and the students to do. I can bring in new best practices and keep my classes current with what is happening in the world now. I can use the garden area as an ongoing research resource. I have connections with Ramsey Washington Metro Water Shed District and their expertise and support has been critical to the success of the rainwater gardens at school. I have the support of the administration and they have been instrumental in encouraging me to be involved in the garden, new classes, and new technologies. I have a wonderful relationship with my fellow science teachers. Every day is like a department meeting as we talk and share new ideas, and activities in a very collegial setting. We work together well as a team and we support and help each other. Read More